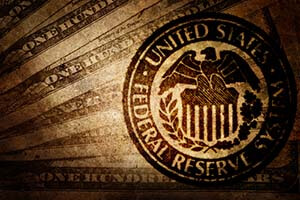 The one question on every investor's mind this December is will the Fed raise rates?
In a testimony before Congress on Nov. 4, U.S. Federal Reserve Chairwoman Janet Yellen said the economy was "performing well" and that there was a "live possibility" of a rate hike in December. They were ambiguous remarks – as always – but they did signal it's more likely than ever that the Fed will raise rates.
Many financial analysts and economists think the Fed is finally going to raise rates at its Dec. 15-16 meeting, even if only by a small percentage. If so, it would be the Fed's first interest rate hike since June 2006.
CME Group, one of the largest futures and options exchanges in the United States, says there's a nearly 80% chance the Fed will raise rates in December. And according to a poll by The Wall Street Journal, 92% of business and academic economists also think the Fed will raise rates in December.
We agree – even though a rate hike is not a good move.
"They (the Fed) shouldn't raise rates," Money Morning Chief Investment Strategist Keith Fitz-Gerald said earlier this month, "but I actually think the Fed is going to go ahead and do it."
For a rate hike to happen, the Fed must conclude the economy has significantly improved since the Great Recession. And the way the Fed sees the data, the economy has…
These are the numbers the Fed sees as reason to raise rates next week…