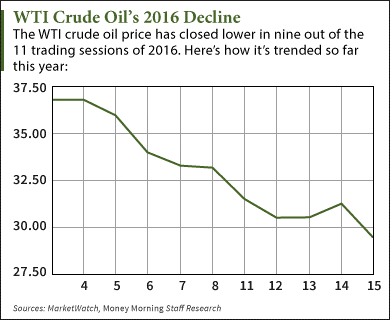 The West Texas Intermediate (WTI) crude oil price continued its month-long spiral today (Monday) in response to the lifting of Iran's economic sanctions over the weekend.
At 10:50 a.m., WTI crude oil was down 0.6% and trading at $29.25 a barrel. The U.S. benchmark has shed more than a fifth of its value over the 11 trading sessions of 2016 so far. It has fallen 21% on the year.
On the other hand, international crude oil prices saw meager gains this morning. Brent crude oil prices - the global benchmark priced in London - added 0.2% to trade at $29 a barrel. Futures for March delivery are down 23% in 2016.
Here's why Iran is pulling prices lower today...
Why WTI Crude Oil Prices Are Tumbling Toward $29 Today
The slide in WTI crude oil prices today comes in the wake of a report from the United Nations' atomic agency relieving Iran of various economic sanctions.
On Jan. 16, the International Atomic Energy Agency (IAEA) confirmed Iran has complied with the terms of the nuclear deal struck last July by effectively scaling back its nuclear research. Some of the terms included reducing its uranium stockpile to 300 kilos or less and allowing IAEA spot inspections of Iranian nuclear sites.
In exchange for reducing nuclear activity, the UN will lift sanctions that target Iran's defense, shipping, and most importantly, oil industries. The OPEC country will now be allowed to start ramping up oil exports, which analysts believe will add up to 500,000 barrels of oil a day to the already oversupplied market.
The lifting of the sanctions comes at the worst possible time for WTI crude. Oil prices continue to suffer from the broad sell-off in Chinese and U.S. markets, and this only exacerbates the problem.
"The lifting of Iranian sanctions should add to the selling momentum in oil prices," said Norbert Ruecker, head of commodities research at Swiss banking group Julius Baer, to The Wall Street Journal. "The oil market is seemingly facing its final washout while transitioning into a new normal."
But investors shouldn't run from the energy sector now. According to Money Morning Global Energy Strategist Dr. Kent Moors, investors can still profit regardless of where the price of oil goes. That's because oil is becoming less influential on the energy market as a whole, which opens up plenty of investment opportunities in other burgeoning energy sectors.
"The broader energy space certainly keeps an eye on the movement of the price of oil," Moors explained on Jan. 11. "But increasingly that is no longer where the real action is."
As you'll see, Moors outlines five other "bright spots" in the energy sector that offer significant potential for investors looking to bank profits from the changing energy landscape...
Alex McGuire is an associate editor for Money Morning who writes about energy. Follow him on Twitter for all the biggest oil and gas updates.
Like us on Facebook: Money Morning