After looking at the performance of global markets today, the question most investors are asking is "Why is China's stock market closed today?"
That's because the performance of China's stock market has had a huge impact on U.S. stock markets in 2016.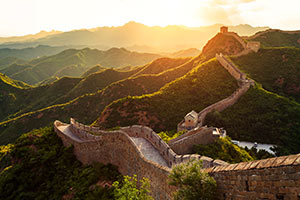 China's stock market is closed today for Chinese New Year celebrations.
Festivities for one of the most important calendar events in China, South Korea, Hong Kong, and Taiwan kicked off today (Monday). Observed by nearly 20% of the world's population, the Lunar New Year is a major celebration that lasts weeks.
Each Chinese New Year is characterized by one of 12 animals that appear in the Chinese zodiac. This year, beginning Feb. 8, is the Year of the Monkey. And that's good news.
Monkey years are believed to positive and optimistic. The birth rate across Asia typically goes up during monkey years because parents hope to bring their children into the world with the prospects of good fortune, intelligence, and cleverness, especially in their careers and wealth. The next Year of the Monkey will be in 2028.
In observation of the Lunar Holiday, mainland stock markets will be closed for the entire week. The Hong Kong market, meanwhile, will be closed Monday to Wednesday.
Asian stocks were mixed Friday in quiet trading ahead of the Lunar New Year holiday.
The Hang Seng gained 0.55%, while the Nikkei 225 led the Shanghai Composite lower. The two key benchmarks fell 1.32% and 0.63%, respectively.
Some investors were looking for a rally Friday. China unveiled new rules on Thursday that allow investors under the Qualified Foreign Institutional Investor scheme (QFII) to buy more stocks and bonds. It also makes it easier for them to move money out of the country.
China's stock market has been in focus for U.S. investors all year. A major sell-off in the Chinese stock market has been one of the contributing factors of the sell-off stateside.
And China's stock market will continue impacting your money in 2016...
China's Stock Market Faces Challenges in 2016
China's stock markets have been trending lower even after collapsing 40% last August. Year to date, the Shanghai Composite is down 11.89%. The smaller Shenzhen is off 15.82%.
In 2016, the Dow Jones Industrial Average has fallen nearly 7%. The S&P 500 has dropped even further, down 7.7% this year.
Investor jitters and global stock market volatility have accelerated since January, when China announced economic growth in 2015 slowed to 6.9%. That was the slowest growth rate in 25 years and below economists' lowered expectations of 7%. Economists say the true GDP number is more likely 4%. But lack of transparency makes it difficult to get an actual read.
Meanwhile, forecasts for 2016 annual GDP are glum. Chinese officials call for a growth rate of 6.5% this year. But to get there, another interest rate cut, several reserve requirement ratio cuts, and fresh fiscal monetary measures are expected.
China cut interest rates six times in 2015, and lowered reserve requirements several times. By making loans cheaper, China is aiming to encourage companies to spend and invest. The extra loans might spur more construction of apartment buildings, office towers, and shopping malls.
But China is already struggling with a mountain of debt...
Debt, which has continued to rise even as the economy slows, has limited Beijing's options to boost growth. State-owned enterprises' profits fell 9.5% year over year during the first 11 months of 2015. Meanwhile, their debt increased 18.2%, according to BMI Research.
Total debt in China currently equals almost 260% of annual economic output, according to UBS Group. That's up from less than 160% in 2007.
Concern over the health of the Chinese economy has wide-reaching effects.
Growth in the Eurozone and the wider European Union will be weaker this year than previously forecast, the European Commission said Thursday. The EC warned the economic slowdown in China and emerging markets could further weigh on the limping Eurozone economy.
The economy of the 19-country Eurozone is expected to grow just 1.7% this year. That's a slight improvement from the 1.6% growth in 2015, but it's lower than the 1.8% expansion the commission had forecast in November.
U.S. multinational companies are also feeling the pain.
For Q4 2015, the blended earnings decline for S&P 500 companies is negative 5.8%. If the index reports a decline in earnings for Q4, it will mark the first time the index has seen three consecutive quarters of year-over-year declines in earnings since Q1 2009 through Q3 2009.
All that means the U.S. stock markets will continue to be volatile along with China's stock market. That's why Money Morning experts have devised an investing strategy that will help you protect your money, and even profit, when the markets are volatile. Click here for the entire guide...
Stay informed on what's going on in the markets by following us on Twitter @moneymorning or liking us on Facebook.
Related Articles: