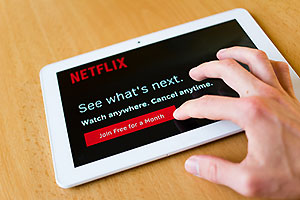 Netflix Inc. (Nasdaq: NFLX) reports its first-quarter earnings on Monday, April 18.
Netflix stock has climbed 7% in the last week ahead of earnings, and now many investors are wondering if this is a good time to buy Netflix stock. But before we get into our recommendation for NFLX stock, let's look at what analysts expect in Netflix's Q1 earnings report…
The consensus earnings per share (EPS) estimate for Netflix this quarter is $0.03, based on 35 analyst ratings. That's compared to its reported EPS of $0.11 in Q1 2015. This is a significant drop, but one that has been necessary as Netflix devotes its resources toward expanding its subscriber base.
Netflix expects to report nearly 6 million more subscribers in Q1 2016, with 4.35 million and 1.75 million additions in international and domestic markets, respectively. That's much higher than its 2.43 million international and 1.9 million domestic additions in Q1 2015.
Although Netflix's subscriber growth has been improving overall, investors have been critical of its declining domestic subscriber growth. That's largely because its domestic growth was so rapid over the past few years. Netflix hasn't been able to keep up its prior pace of growth in the U.S. streaming industry – a segment that it already dominates. Its domestic subscribership has been growing at an average of 100,000 less subscribers each year since 2013.
Another thing to watch – Netflix is raising its subscription price for 17 million subscribers in the second and third quarters, according to CNBC. The average price increase per month is $2 and will affect subscribers who used to pay $7.99 for their subscriptions. Only 3% to 4% of those subscribers are expected to cancel, CNBC reports.
Netflix is banking on strong demand for its popular shows – like "House of Cards" and "Daredevil" – to boost its subscriber additions. Also, in this quarter alone, Netflix's Chief Content Officer Ted Sarandos said the company released more titles than most networks do in a year.
But no matter how the Netflix stock price does on Monday following earnings, here's how we recommend playing Netflix stock in 2016…
Is Netflix Stock a Strong Investment in 2016?
It's important to remember – Netflix is a global company. And its huge international subscriber growth has more than offset its dwindling domestic subscriber growth.
This global expansion is the biggest catalyst for Netflix stock in 2016.
Since debuting internationally in Canada in 2010, Netflix has expanded to 190 countries around the world.
Netflix added a record 5.5 million subscribers in its last quarter, and international additions accounted for 4 million of those subscribers.
Although Netflix is already close to covering three-fourths of the international markets, it isn't letting up. Netflix also wants to expand into China, which would be a huge (and profitable) feat. It's currently exploring its options there.
"Right now, they [Netflix] are going through an Amazon.com Inc. (Nasdaq: AMZN) style growth period. It's the Bezos model – build, build, build – then the profits will follow," Money Morning Defense & Tech Specialist Michael A. Robinson said back in October 2015.
Patient investors will see profits – in time. Right now, Netflix is still spending too much money on expanding to make a substantial profit. So even though Netflix stock isn't a good short-term investment, it's great for investors looking to buy and hold it for a while. Netflix stock is currently trading at nearly 400 times its earnings, which is incredibly high. But not necessarily unwarranted.
Back in early 2016, Netflix said it expects to make a consistent profit by next year. And that's exactly what current Netflix investors are expecting. This also makes Netflix stock a smart buy for investors that want to grab it before its profits take off.
Based on the average EPS estimates of 38 analysts, the Netflix stock has a price target of $123 per share by December 2017. That's a nearly 11% gain from its Thursday close of $110 per share.
The Bottom Line: Netflix stock is a solid buy right now because of its strong international subscriber growth. Expect Netflix to post encouraging international growth numbers in its Q1 2016 earnings report. Netflix stock is very much a growth stock, which entails some speculation. But the company's business model has proven successful and will continue to be so in the future.
Stay informed on what's going on in the markets by following us on Twitter @moneymorning or liking us on Facebook.
This Penny Stock Will Double Your Money – and Save a Dying U.S. Industry: It's not easy to find a truly compelling penny stock, which is why this one is such a remarkable find. Not only is this green energy stock capable of a gain of 100% or more, it's just now rolling out technology with the potential to rescue the struggling coal industry. But this 21st century success story has only just begun, making now the perfect time to buy this stock…