Earlier this week, tech juggernaut Apple Inc. (Nasdaq: AAPL) singlehandedly sent the entire stock market reeling when it reported a second-quarter miss in earnings and revenue.
It was the company's first revenue decline in 13 years.
The disappointing reports listed falling iPhone shipments, which are down some 16% year on year, and 26% fewer sales in the massive and, for Apple, critical Chinese market. The strong dollar isn't helping Apple's performance there, either.
It's only the latest victim of the "earnings recession" we're almost certainly enduring right now.
Don't get me wrong: Apple is still a great company and a must-have stock.
But here's the thing… the very nature of what it means to be an Apple shareholder is changing, and the company is in the midst of what I think is a misstep right now.
Here's what I mean…
The Real State of Apple's Balance Sheet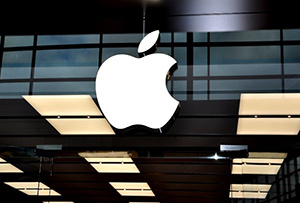 CEO Tim Cook once boasted his firm had "the mother of all balance sheets."
Apple's cash hoard is the stuff of legend – the corporate world's deepest pockets held more than $213 billion in cash and equivalents at the start of 2016.
But there's more to that number than meets the eye. More than 90% of that stash is, well, stashed overseas, and Apple can't really repatriate or "re-shore" it without drawing the attention of America's legions of taxmen who would naturally take around 40% of the proceeds.
Nevertheless, Apple generally has ready access to more than $21 billion, which is still a very healthy number.
The problem is what it will do with that $21 billion… We'll see more financial engineering before we see the latest whiz-bang, must-have product from the company that's given the world some truly astounding technology, as well as the concept of a tech "ecosystem."
Yes, I think it's very likely that Apple will stage another round of share buybacks, and it may even take on more debt to do so, as it did in 2013 with its $17 billion bond sale, the largest in corporate history.
And this buyback event would come hot on the heels of February's $12 billion bond sale, which saw the company offer nine tranches of debt, with maturities ranging anywhere from two to 30 years.
Now, any way you slice it, a buyback will be a good thing for Apple investors… in the short term. It can't help but boost the share price and increase dividends.
But this course of action really speaks to how tough things are for Apple in the so-called "innovation cycle."
And that's making a huge difference for shareholders, but not in the way you might expect.
There Are Two Roads for Apple to Take Now
That innovation pipeline is looking mighty dry at the moment. I believe we're more likely to see a bigger or faster iPhone, or a smaller iPad, or different product colorways before Tim Cook & Co. really wow consumers with something never seen before. And of course they'd be great products – after all, this is Apple – but they wouldn't be new products.
That's why Apple's stock is making a shift right now. We're seeing one of history's most compelling growth stocks turn into more of a "cash cow."
I don't mean to suggest that's a bad thing. Apple is still a "Buy," even a strong one, but investors would be well-advised to think about how Apple's new essential nature fits into their investing strategy. The sooner investors realize these shares have changed, the better off they'll be in the long run.
In any case, I'm treating this change in Apple's stock as permanent, at least until I see compelling evidence of real innovation coming back to roost in Cupertino, and I recommend Apple's shareholders do the same.
Of course, the "high road" play for Apple right now would be for them to start pouring some of that big cash pile into research and development (R&D), which might fill up that empty pipeline and generate some consumer (and investor) excitement about the tech firm's future.
That would certainly go a long way toward bringing AAPL shares back into the realm of truly great high-growth shares.
In the meantime, Apple is facing a few headwinds.
Obstacles Apple Must Overcome Include… Itself
The strong dollar, for instance, has a great deal to do with Apple's underwhelming performance abroad – particularly in China. Those great products are more expensive for foreign buyers.
But in many ways, Apple is a victim of its own success.
Around this time last year, Apple's new iPhone 6 was the toast of the tech world, first-quarter sales of more than 61 million units were incredibly strong and incredibly fast in virtually every territory where you could buy one.
And that raises the specter of "Peak iPhone." The bar set in 2015 was so high, and expectations were so great, that Wall Street was bound to be disappointed by 2016's less-stellar (but still, by any measure, very good) performance. Investors and analysts start to expect that performance over… and over… and over again, until they're simply nonplussed by the whopping 51.2 million iPhones Apple did sell.
In the long term, Apple has options. The company's products have a global fanbase in the hundreds of millions, and they garner profit margins that continue to be the envy of the tech world.
What's more, there's a lot of upside in the newer emerging markets, like China, where it took a sales beating in the second quarter. And again over the long term, a weaker dollar will make penetrating those foreign markets a lot easier, and of course a lot more profitable once again.
That kind of progress in the market will be about as important to Apple's future prospects as a return to innovation. They just need to get there before Microsoft Corp. (Nasdaq: MSFT), Alphabet Inc. (Nadsaq: GOOG), or Samsung Electronics Co. Ltd. (OTCMKT: SSNLF) do.
As much as I'd like to see Apple's leadership put innovation ahead of financials, investors can't really go wrong with Apple shares at this point; there's no way this stock will come back to bite you. At the same time, it's important buyers keep their eyes open to the kind of shares they're buying.
Follow Money Morning on Facebook and Twitter.
The truth about America's biggest company this hedge fund manager couldn't tell on TV. One of the country's most successful hedge fund managers recently appeared on FOX News to discuss an important issue. But when his time was cut short, he went backstage and recorded a video regarding Apple's movement. This is a must-see for any investor, even if they don't hold a single share of this stock, because what he's uncovered is also appearing with some of the most commonly held stocks. Click here to learn more.
Join the conversation. Click here to jump to comments…
About the Author
D.R. Barton, Jr., Technical Trading Specialist for Money Map Press, is a world-renowned authority on technical trading with 25 years of experience. He spent the first part of his career as a chemical engineer with DuPont. During this time, he researched and developed the trading secrets that led to his first successful research service. Thanks to the wealth he was able to create for himself and his followers, D.R. retired early to pursue his passion for investing and showing fellow investors how to build toward financial freedom.