Last week the markets were on a teeter-totter – the same kind you saw on the playground as a kid. You were either going up or going down.
Now, picture that someone else intervened in your "ride" by pushing on one side or the other. That person has now directly influenced whether you went up or down.
With that image in mind, we can see what's happening in the markets right now.
What is pushing prices up right now are expectations that the U.S. Federal Reserve will continue to be "accommodative" and avoid raising interest rates.
This faith in the actions of central banks has put a mental "safety net" under the market for many traders and investors.
But that might not be a good thing this month. Here's why…
The Market Has Support Here… for Now
The forces working in the other direction, pushing prices down, are continued bad earnings results, leading us to expect a fourth straight quarter where year-over-year (YoY) earnings show a decline.
That puts us right in the middle of an "earnings recession" – and it puts a damper on stock price expectations in general.
These two forces are taking turns moving our stock market teeter-totter up and down. We can see that clearly when we look at this price chart, which shows the previous five days broken down into 60-minute price bars: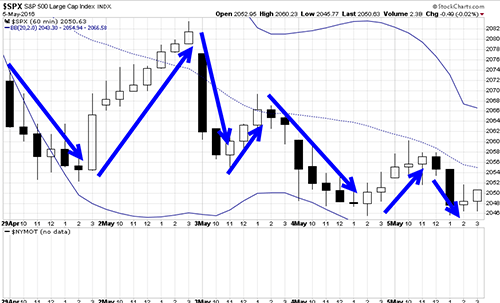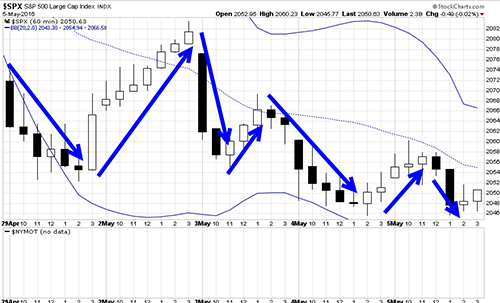 In the end, it's basically much ado about nothing, with the S&P 500 down about 1% and the Dow Jones Industrial Average down even less, about 0.5%.
Plus, we still have the very important support level that we looked at holding right below us: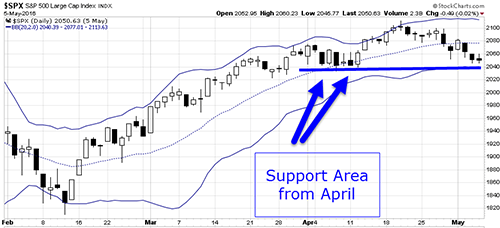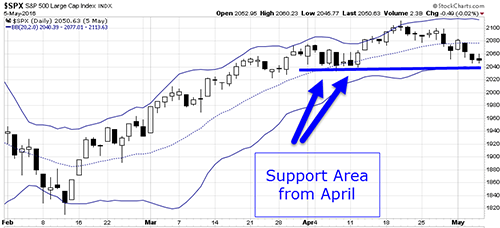 In my Stealth Profits Trader service, I recently discussed activist investor Carl Icahn moving the market. As I thought about that this week, I guessed that many folks might be asking how one man can move the markets.
In general, last week's trading gave us a big part of our answer: In markets that have no direction and no follow-through, one way or the other, one piece of news – one man – can have an outsized effect.
In flat market conditions like this, it's good to hang onto positions that keep moving against the tide. These companies have done very well in my Stealth Profits Trader service, and the trades we have going on them have done even better. Now I'll share them with you, too.
Lockheed Martin Corp. (NYSE: LMT): Shares of this defense and aerospace firm hit new all-time highs again last week, and I'm not surprised. In markets with no direction, defense stocks are a sector of choice among money managers. Lockheed's stock continued its price spike after the firm announced on Thursday that it had landed a $424 million Pentagon contract for threat radar emitter simulations products. The stock is well below overbought readings and has layers of support in place. After taking triple-digit gains in our LMT March 2016 $220 (LMT160318C00220000) calls trade, we've held Lockheed Martin's stock as an intermediate-term trade. As I said last week, we'll continue holding our remaining shares, expecting this excellent upside momentum to continue. If you don't own these shares, consider grabbing some right now.
Our PG&E Corp. (NYSE: PCG) shares had another strong run this week and even approached new all-time highs after the firm announced that it had beaten earnings expectations on Wednesday. For the first quarter, PG&E reported adjusted operating earnings per share of $0.82, beating analysts' expectations of $0.76 by nearly 8%.
"We remain focused on delivering safe, reliable, affordable, and clean energy to our customers and positioning PG&E for the future," CEO Anthony Earley told reporters.
It's important to note that this San Francisco-based firm has surpassed analysts' expectations in three of the last four quarters, with an average beat of 12.1%.
What I'm Expecting This Week and Beyond
As you can see in the chart above, we've traded down to a key support level heading into this week's trading.
My expectation is for a bounce up off of this support level for a weak rally that could last five to seven trading days, and we've seen that begin to happen.
But watch out: After that, we could get a deeper pullback as we head into the end of May. If that's the case, I still recommend hanging on to stocks like Lockheed and PG&E, but I'd look to add short positions in companies that are going to go along for that pullback ride.
Over at Stealth Profits Trader, my Hooke Pattern and Stealth Stock Trading Indicator (SSTI) will continue to monitor price action at key support levels to see if we need to update our expectations.
Follow Money Morning on Facebook and Twitter.
Urgent Text Could Have Helped You Double Your Money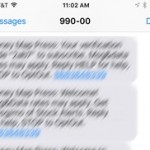 Last week a handful of our subscribers received an urgent text message: "Look for a rare stock market pattern appearing in a casino stock – it could deliver major money." Sure enough, folks who followed the instructions could have cashed out a 101.2% gain. And this signal just appeared again, meaning another winner could be coming. Click here to see how you can get these notifications.
NOTE TO READERS:  Tonight, at 11:59 p.m. (ET), this invitation will no longer be valid. Click here to review this immediately.
Join the conversation. Click here to jump to comments…
About the Author
D.R. Barton, Jr., Technical Trading Specialist for Money Map Press, is a world-renowned authority on technical trading with 25 years of experience. He spent the first part of his career as a chemical engineer with DuPont. During this time, he researched and developed the trading secrets that led to his first successful research service. Thanks to the wealth he was able to create for himself and his followers, D.R. retired early to pursue his passion for investing and showing fellow investors how to build toward financial freedom.