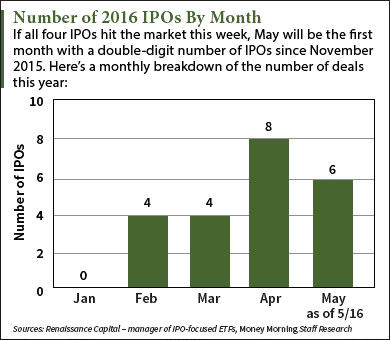 There are four companies on this week's upcoming IPO calendar. According to Renaissance Capital, a manager of IPO-focused ETFs, they're set to raise a combined $937 million.
Despite the slow start to the year, IPOs have outperformed the broader market recently. Since Feb. 17, the Renaissance IPO exchange-traded fund (ETF) – which tracks companies that have gone public in the last two years – is up 11.8%. That beats the S&P 500's gain of 9.3% in the same time.
And leading the group of new IPOs this week is CF Corp. (Nasdaq: CFCOU)…
CF Corp. is a special purpose acquisition company (SPAC). Also known as blank check companies, SPACs raise money for the purpose of acquiring another company. CF Corp. was formed by Chinh Chu and William Foley, formerly of Blackstone Group LP (NYSE: BX) and Black Knight Financial Services Inc. (NYSE: BKFS), respectively. It will be the biggest blank check IPO since 2008.
The company will raise $600 million by selling 60 million shares for $10 each. CF Corp. is valued at $750 million and hasn't listed a specific pricing date. However, it's expected to start trading sometime this week.
Now, here's the rest of this week's upcoming IPO calendar, including a bank with more than $2 billion in assets…
Three More Deals on This Week's Upcoming IPO Calendar
Grupo Supervielle SA (NYSE: SUPV) is a family-owned bank based in Argentina that has over $2 billion worth of assets. Founded in 1887, the bank is the holding company for Banco Supervielle, which is the fifth-largest private bank in the country. Grupo Supervielle will be the first IPO from Argentina since 2014 and indicates the country's improving investor sentiment. But the country's huge 30% inflation rate could hinder the bank's growth prospects over the long term. The bank is set for a $250 million deal by offering 20.8 million American Depository Shares – shares of a foreign firm available for trade on an American stock exchange – for $11 to $13 each. Grupo Supervielle commands a $798 million valuation and will hit the market on Friday, May 20.
Continue reading for the final two new IPOs this week…
Merus BV (Nasdaq: MRUS) is a Netherlands-based biotech working on a treatment for various cancers. Its lead drug candidate, MCLA-128, is in a phase 1/2 clinical trial and targets breast, lung, and colorectal cancers. Although the drug is at least five years away from gaining full FDA approval, it will target a huge market worth roughly $8.7 billion. The company is backed by giants Novartis AG (NYSE ADR: NVS), Johnson & Johnson (NYSE: JNJ), and Pfizer Inc. (NYSE: PFE). Each will own 10.2%, 7.3%, and 6.8% of MRUS stock, respectively. Merus will generate $65 million by selling 4.33 million shares at a price range of $14 to $16. It's valued at $223 million and will debut on Thursday, May 19.
PhaseRX Inc. (Nasdaq: PZRX) is a small-cap biotech focused on treatments for enzyme deficiencies, particularly in the liver. The firm is mainly going public to raise money for research toward treating a condition called urea cycle disorder, which causes excess ammonia levels in the blood. PhaseRX hopes to raise $22 million by offering 3.7 million shares at a $5 to $7 price range. It commands a $72 million valuation and will start trading on Wednesday, May 18.
Alex McGuire writes about upcoming IPOs for Money Morning. Follow him on Twitter for all of the biggest IPO updates.
Like us on Facebook: Money Morning
Don't Miss These Five IPOs This Year… The 2016 IPO market is surging back to life. In fact, May is set to be the most active month for IPOs since November 2015. That's why we're following these five "megadeals" that will make a huge impact on the IPO sector this year…