The Chipotle stock price has rallied nearly 5% this week after the company announced a new loyalty program aimed at winning back customers.
And that Chipotle stock price rally has investors asking if it's time to buy shares of the beleaguered restaurant chain.
Before we get into how to play the latest Chipotle Mexican Grill Inc. (NYSE: CMG) stock price rally, here is everything you need to know about this week's gains…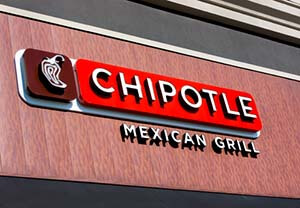 The company just launched its summer "Chipotia" loyalty program. Geared toward Chipotle's most regular visitors, customers are rewarded for how often they frequent stores. Free meals are earned after the fourth, eighth, and 11th visit each month.
Additional rewards include free catering when customers reach status levels within the loyalty program.
These rewards are quite generous compared to other leading loyalty programs offered by Starbucks Corp. (Nasdaq: SBUX) and Dunkin' Brands Group Inc. (Nasdaq: DNKN). Chipotia offers about three times the payback-per-dollars spent than Starbucks' loyalty program.
The program runs through the summer. But what happens when it ends could be troubling for Chipotle. Customers take loyalty programs seriously.
"The program's end in September could alienate some customers just as they are getting accustomed to the rewards," BTIG analyst Peter Saleh wrote in an investor note.
The promotional program and freebies will also likely come at the expense of real sales.
Chipotle has been relying on the enticement of free burritos and other initiatives to lure back its once enormously loyal customer base. So far, the results have been mixed for investors. Despite this week's gains, the Chipotle stock price in 2016 is still down nearly 15%.
The company's storied brand and reputation has been damaged since 2015's highly publicized food contamination scandal. Government investigations followed.
The scandal has weighed heavily on Chipotle, which had prided itself on the integrity of its ingredients and methods. Many once-faithful customers have vowed to never return.
And while the new loyalty program is a step in the right direction for the company, the CMG stock price still faces major headwinds in 2016.
Why We Remain Bearish on the Chipotle Stock Price in 2016
Earlier this month, a Harris Poll revealed that Moe's Southwest Grill unseated Chipotle as the most popular brand selling Mexican-inspired food in the United States.
Moe's took the crown even though it only has about half the number (650) of locations as Chipotle (more than 1,900). Chipotle, which held the top spot for the last three consecutive years, also ranked below Taco Bell, Qdoba, and Baja Fresh.
As Chipotle's once-stellar reputation faded, the Chipotle stock price lost more than half its value.
During its fiscal Q1 2016, same-store sales plunged by nearly 30%. When Chipotle reports Q2 results July 21, earnings per share (EPS) are expected to come in at $0.95. That's down from EPS estimates of $1.02 a month ago and $1.58 three months ago, according to Wall Street Journal data.
Analysts remain bearish on the stock. Most don't expect the Chipotle stock price to recover anytime soon.
Earlier this year, Deutsche Bank downgraded CMG to "Sell" from "Hold," citing a lack of faith in the company's ability to recover.
"We still question what a recovery will look like (and when it will materialize)," Deutsche Bank analysts said in a February research note. They said that while management has been hands-on in "trying to regain consistency and customer trust, there is tremendous uncertainty on how well they will be received."
Another bearish outlook for the Chipotle stock price comes from Maxim Group. The firm notes the summer promotion is not as extreme as the free burrito giveaways earlier this year and is Chipotle's attempt to rebuild traffic. Maxim has a "Sell" rating on the stock with a $285 price target.
At $403.08, the Chipotle stock price is down 14.66% year to date and 33.41% over the last year.
Follow us on Twitter @moneymorning and like us on Facebook.
Wall Street's Next Wipeout – Will You Be Ready? A Wall Street analyst reveals a little-known "crash insurance" strategy that could "insure" your assets – up to $1 million or more – with the potential to keep you fully covered before the Brexit sends the unprotected to the poorhouse. Read more…
Related Articles: