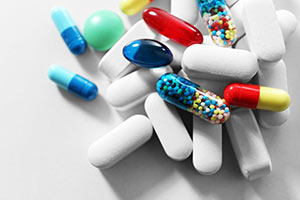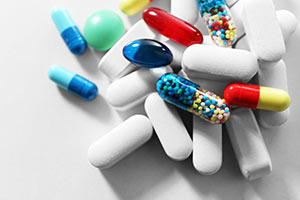 The Valeant stock price is up another 2% today (Thursday) after jumping 13% on Wednesday. The rally comes after Walgreens Boots Alliance Inc. (Nasdaq: WBA) announced that it has been pleased with its relationship with Valeant.
The news may be bullish for the Valeant stock price now, but we're not sold on Valeant stock. We'll get to our VRX stock price outlook in a bit, but first, here's this week's news…
Walgreens collaborated with Valeant Pharmaceuticals International Inc. (NYSE: VRX) in December. Walgreens receives a 10% discount for Valeant-branded dermatology and ophthalmology products it distributes.
The deal began in Q1 2016, spans 20 years, and includes more than 8,000 Walgreens pharmacies. Initially covered are some of Valeant's top-selling drugs, like acne products Solodyn and Retin-A Micro, the toenail fungus drug Jublia, and eye drop Alrex. It also covers Valeant's over-the-counter products.
On a conference call Wednesday following Q2 earnings, Walgreens COO Alexander Gourlay said six months into the deal the company is happy with its Valeant arrangement.
Gourlay went on to say Walgreens has confidence in Valeant's new CEO, Joseph Papa. Papa is an industry veteran who replaced the controversial J. Michael Pearson in early May. The move was part of Valeant's attempt to rebuild frayed investor confidence.
"We know Joe well in the past from Perrigo, where the group had a very good relationship with Joe and Perrigo, and we're in constant dialog with Joe and the management team," Gourlay said. "We do see their situation, and we're very willing to help them in a positive way."
Gourlay added that Walgreens expects the relationship to last for a long time. The contract was initially set for 20 years.
Without question, the news was the kind of shot in the arm the Valeant stock price needed. Since Tuesday, the Valeant stock price is up nearly 15%. But even with those gains, VRX stock is still down more than 77% in 2016.
And even though this may look like a turning point, we're still not buying into Valeant stock today. Here's why…
Why We Remain Bearish on the Valeant Stock Price
When Valeant reported delayed earnings in late April, investors breathed a sigh of relief.
The report did not reveal any more issues with Valeant's accounting practices. It also allowed Valeant to avoid a debt default. Valeant's corrected 2015 financial report states that it had a net loss of $291.7 million, versus net income of $880.7 million in 2014. Revenue totaled $10.45 billion, up 27% from a restated $8.21 billion in 2014.
Still, Wall Street remains skeptical about Valeant and the VRX stock price.
Some of the biggest concerns include:
Three federal investigations into its accounting and business practices that include acquiring smaller companies and sharply raising the prices of acquired drugs. Valeant has become the poster child for pharmaceutical company greed.
An enormous price plunge in stock price. The practice of raising drug prices caused the Valeant stock price to surge from $35 in October 2011 to nearly $264 last August. The stock currently changes hands at $23.70.
Insurers demanding bigger discounts from its inflated drug prices. Many large pharmacy chains, including CVS and Express Scripts, have ceased doing business with Valeant.
Activist investor Bill Ackman of Pershing Square Capital Management, one of Valeant's largest shareholders, has a heavy hand in attempting a turnaround at the besieged company. He's helped overhaul the board and shift the company's direction.
Count us among those who doubt a new CEO and new board as being enough to turn around the company. We're also not convinced Valeant can create and execute a business model that will make it a legitimate and profitable player in the pharmaceutical space.
We've been bearish on the Valeant stock price for nearly a year, and we repeatedly warned investors of the company's unethical practices.
"Valeant Pharmaceuticals is getting what it deserves," Money Morning Global Credit Strategist Michael Lewitt said on Oct. 22, 2015, when VRX stock was trading near $110 per share. "Its predatory way of doing business has made management and several hedge funds rich but severely damaged everyone else with whom the firm has come into contact with."
Lewitt maintains there is no real value to Valeant and that it will eventually go bankrupt.
Even with the two-day rally, the Valeant stock price remains down 76.59% year to date.
Brexit Triggers Rush to "Insure" Life Savings: Billionaires are sinking millions into "crash insurance" in an effort to protect themselves against another 2008-style meltdown. If you haven't shielded your holdings, you better act now before all hell breaks loose. Read more…
Follow us on Twitter @moneymorning and like us on Facebook.
Related Articles: