Ah, sweet anticipation. We all know the Fed meets in 11 days. Usually that would have most market participants as jumpy as a cat on a hot tin roof.
But not this time.
It's quite true that this is an era when central bank moves (or lack thereof) shift markets with great regularity. I've even made the case recently on CNBC's "Closing Bell" that central bank intervention is the driving force keeping U.S. stock indexes at "the top of the page."
For the CNBC viewers I made the simple example of how I'd teach my third-grade economics students (Kelly Evans, the show's host, said she'd like to meet those third graders…).
I explained that right now, the markets are acting like a balance scale. Let me show you…
This Explains Everything We're Seeing Now
If we put all the bad or bearish stuff in a basket on one side of the scale, we'd put in the U.S. corporate earnings recession, the China debt bubble, and other poor global economic data.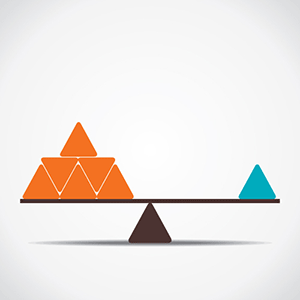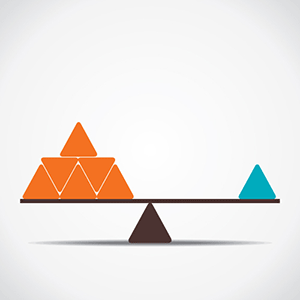 And in the basket on the other side of the scale, we'd plunk down central bank monetary intervention.
And time and again the central bank side is winning… and keeping the stock market near all-time highs.
In this environment of central bank dominance, we have an upcoming Fed meeting and almost no one thinks the committee will raise interest rates.
And this perception of "no action" by the Fed in the November meeting is not just hearsay. The Chicago Mercantile Exchange (CME), one of the major futures exchanges in the United States, has a fed funds rate futures contract that provides institutions a tool to hedge their portfolios against the effects of Fed rate decisions.
This fed fund contract allows us to look at how traders and institutions are positioning themselves, and therefore gives us a probability for a rate hike at any given Fed meeting. And that tool currently is only giving a 9.3% chance of a rate hike at the November meeting.
Here's the graphic, published by the CME:
Join the conversation. Click here to jump to comments…
About the Author
D.R. Barton, Jr., Technical Trading Specialist for Money Map Press, is a world-renowned authority on technical trading with 25 years of experience. He spent the first part of his career as a chemical engineer with DuPont. During this time, he researched and developed the trading secrets that led to his first successful research service. Thanks to the wealth he was able to create for himself and his followers, D.R. retired early to pursue his passion for investing and showing fellow investors how to build toward financial freedom.