(Kitco News) - In overnight news, the U.K. economy grew by 0.5% in the third quarter from the second, and grew by 2.3%, year-on-year. The numbers were better than market expectations. Also, retailers in the U.K. saw stronger than expected sales in October, a report said Thursday.
The upbeat GDP and consumer spending data came despite the U.K. Brexit vote in June, which many said would cripple the British economy. This news also helped to pressure government bond markets in Europe and in the U.S., as it falls into the camp of the monetary policy hawks, who want to see interest rates rise sooner rather than later.
European and Asian stock markets were mixed to weaker Thursday. Asian shares were pressured by a downbeat report on industrial profits coming out of China. China's central bank on Thursday continued to lower the value of the yuan against the U.S. dollar. U.S. stock indexes are pointed toward slightly higher openings when the New York day session begins.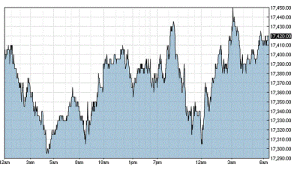 Sweden's central bank held its interest rates steady at its latest monetary policy meeting Thursday.
The outside markets on Thursday see Nymex crude oil prices firmer following a surprise decline in U.S. stockpiles, reported Wednesday. However, gains were limited on growing doubts that OPEC will cut is collective crude oil output. The U.S. dollar index is also slightly lower on mild profit taking after hitting an 8.5-month high Tuesday.
Gold prices are firmer today, supported in part by better demand for physical gold coming out of India, reports said.
The big data point for late this week will be Friday's U.S. gross domestic product report for the third quarter, which is expected to see a rise of 2.5%, year-on-year. Many markets could become more volatile in the immediate aftermath of that report.
U.S. economic data due for release Thursday includes the weekly jobless claims report, durable goods orders, the Kansas City Fed manufacturing survey, and pending home sales.
Overnight, spot gold on Kitco.com was unable to push above the 200-day moving average, hitting a high of $1,271.60 an ounce and a low at $1,261.40 an ounce.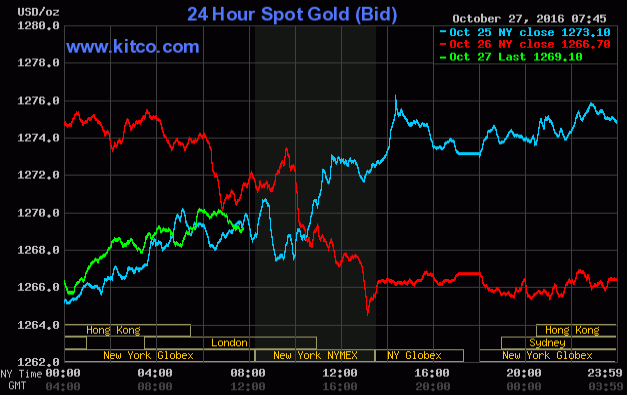 By Jim Wyckoff, contributing to Kitco News; jwyckoff@kitco.com
Follow Jim Wyckoff @jimwyckoff