(Kitco News) – Global stock markets were mostly weaker Monday, following the losses seen in New York on Friday. There was some downbeat economic data coming out of Japan, as industrial production and retail sales reports were a miss to the downside of expectations. U.S. stock indexes are pointed toward slightly higher openings when the New York day session begins.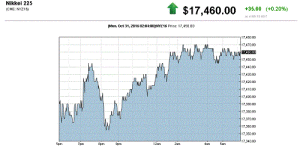 The marketplace is still digesting the surprise news Friday afternoon that the FBI is ostensibly reopening its investigation regarding Hillary Clinton's email server messages. That news initially jolted financial markets Friday, sending the U.S. stock market lower and gold prices higher.
However, as the trading week gets under way that news has lost much of its relevance as far as markets are concerned-at least for now. Still, the U.S. presidential election that is just over one week away is a major factor for many world stock and financial markets.
In overnight news, the Euro zone economy grew by 0.3% in the third quarter from the second quarter and was up 1.4% year-on-year. The numbers were in line with market expectations. Inflation data in the Euro zone was also reported Monday, with the consumer price index up 0.5% in October, year-on-year.
The key outside markets on Monday see Nymex crude oil prices weaker. Reports said a weekend meeting between Iran and Iraq produced no results on how OPEC can put together an oil-production-cut package. Recently weaker oil prices have weighed on world stock markets. Meantime, the U.S. dollar index is firmer and trading not far below its recent 8.5-month high.
Big economic events this week include the Bank of England's monetary policy meeting Thursday and the U.S. employment report on Friday.
U.S. economic data due for release Monday includes personal income and outlays, the ISM Chicago business survey, and the Texas manufacturing outlook survey.
Overnight, spot gold on Kitco.com was unable to retest it's highs seen Friday, trading in a narrow range between $1,278.80 an ounce and $1,27150.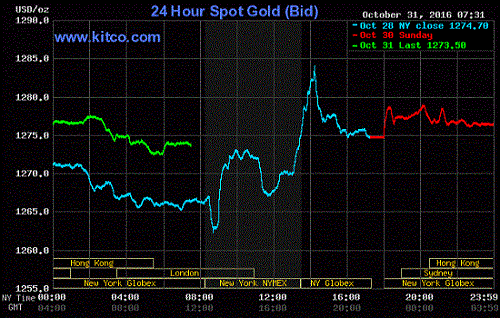 By Jim Wyckoff, contributing to Kitco News; jwyckoff@kitco.com
Follow Jim Wyckoff @jimwyckoff