(Kitco News) - World stock markets were mostly weaker overnight and gold prices are posting good follow-through gains Wednesday as the latest polling in the U.S. presidential election also shows a much tighter race between Hillary Clinton and Donald Trump.
Trump closing the gap, and even leading in at least one major poll, as the election is less than one week away is helping to pressure global equity markets and lift safe-haven gold.
Most of the world perceives Trump as a bigger unknown should he win the presidency. Gold prices are closing in on the key $1,300.00 level. U.S. stock indexes are pointed toward weaker openings when the U.S. day session begins.
Eroding crude oil prices recently are also lending some selling pressure to world stock markets. Nymex crude oil prices slumped to a five-week low of $45.82 in early U.S. trading. Prices have shed about $8.00 a barrel since mid-October. The other key outside market finds the U.S. dollar index trading lower. The greenback has been under pressure this week after hitting an 8.5-month high last week.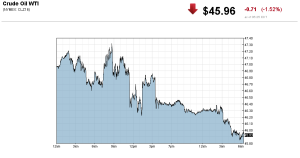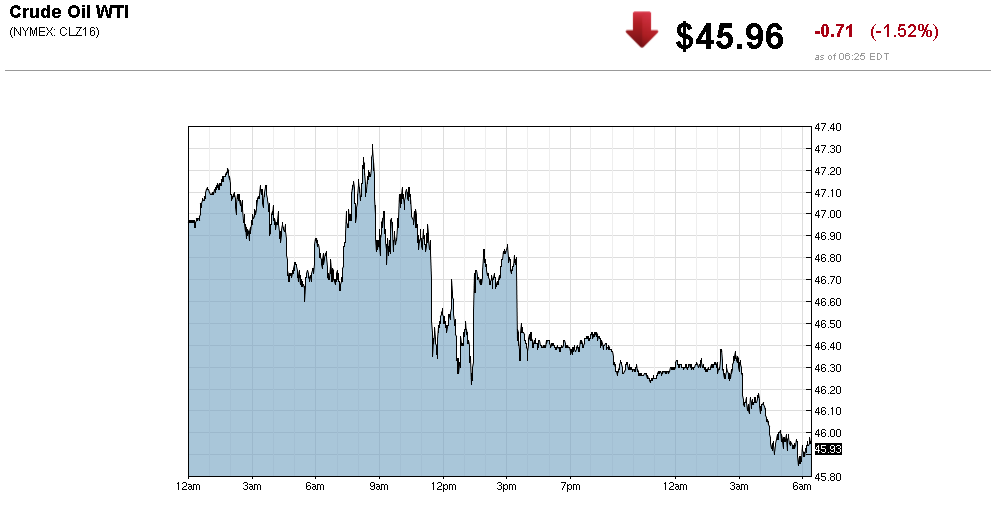 In other overnight news the Euro zone's Markit purchasing managers index (PMI) came in at 53.5 in October from 52.6 in September. That was the highest reading since January of 2014. In Germany, the jobless rate fell to a record low (since 1992 when that data started getting recorded) it was reported Wednesday, falling to 6.0% in October from 6.1% in September.
The Federal Reserve's Open Market Committee (FOMC) meeting that began Tuesday morning and ends this afternoon with a statement. The majority of the marketplace believes the Fed will not raise interest rates at this meeting, but will wait until the December meeting to do so.
Other big economic events later this week include the Bank of England's monetary policy meeting Thursday and the U.S. employment report on Friday.
U.S. economic data due for release Wednesday includes the weekly MBA mortgage applications survey, the weekly ADP national employment report, the ISM New York report on business, the global manufacturing PMI, and the weekly DOE liquid energy stocks report.
Overnight, spot gold prices on Kitco.com hit $1,298.20 an ounce, the highest price in a month; the market is holding on to most of its gains as support during the Asian trading session was at 1,290.40 an ounce.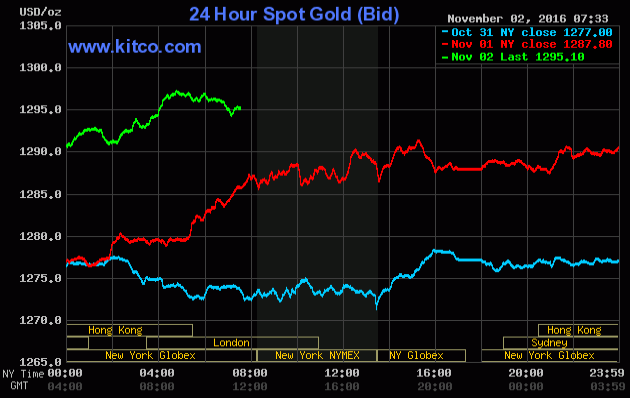 By Jim Wyckoff, contributing to Kitco News; jwyckoff@kitco.com
Follow Jim Wyckoff @jimwyckoff, for breaking market news