(Kitco News) – Gold prices are sharply higher and trading above $1,300.00 an ounce. World stock markets sold off sharply and U.S. stock indexes are pointing toward solidly lower openings when the New York day session begins. U.S. stock indexes are trading well off their lows seen overnight, however.
The U.S. Treasury bond and note markets are trading with steep losses in prices and have hit multi-month lows, after trading sharply higher late Tuesday evening. The key "outside markets" find the U.S. dollar index trading lower and Nymex crude oil futures prices trading slightly lower.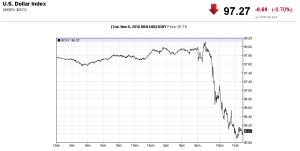 The Mexican peso hit a record low against the U.S. dollar Wednesday.
Asian market participants and big businesses in Asia are spooked by the Trump victory, as the president-elect has said U.S. trade deals with Asian countries are not good. Asian stock markets were sharply lower Wednesday.
How long will volatility last? Likely not long. Markets are quick to factor in unexpected events and it won't be long until they return to more normal price action.
Many are now speculating the Federal Reserve now will not raise interest rates in December, due to wanting to wait to see what Trump's and the Republican-controlled Congress do regarding their new policies.
U.S. economic data due for release Wednesday includes the weekly MBA mortgage applications survey, monthly wholesale trade and the weekly DOE liquid energy stocks report.
At one point in overnight activity, spot gold on Kitco.com was up more than 5% as a Trump victory became more clear. The yellow metal saw sessions lows at $1,290.30 an ounce and a session high at $1,337.90 an ounce.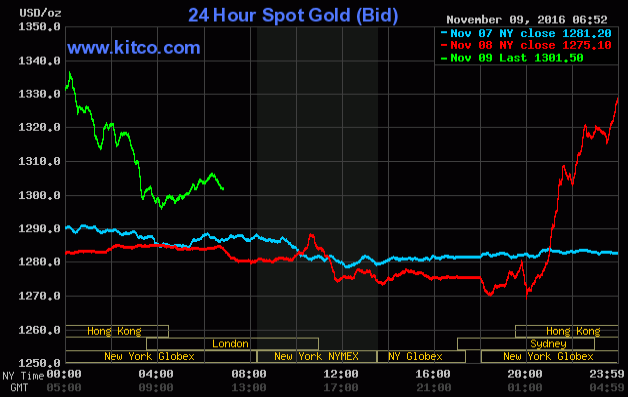 By Jim Wyckoff, contributing to Kitco News; jwyckoff@kitco.com
Follow Jim Wyckoff @jimwyckoff forbreaking market news.