(Kitco News) - In an about-face, world stock markets made strong rebounds Thursday, as fickle traders and investors began to reckon that a Donald Trump U.S. presidency could actually be good for equities and good for the U.S. economy-the world's largest.
Fewer government regulations would also be good for businesses. Just the day before the same marketplace was spooked by Trump's surprise victory over Hillary Clinton. U.S. stock indexes are now not far below their recent record highs.
Stock indexes in Asia and Europe posted solid gains Thursday. U.S. stock indexes are also pointed toward higher openings then the U.S. day session begins.
A major feature in the marketplace the past 24 hours has been rising world bond market yields. Many market watchers believe a Trump administration will produce generally higher interest rates worldwide.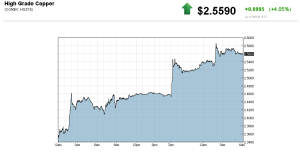 Another feature in the world markets is soaring copper prices, on ideas a Trump administration would mean more demand for the red industrial metal due to increased infrastructure spending. Copper prices hit a 16-month high overnight and have risen by 30 cents a pound just this week.
The safe-haven gold market enjoyed strong gains in very early trading Wednesday, but those gains have mostly been given back amid the dramatically improved investor and trader risk appetite the past 24 hours.
The key "outside markets" on Thursday find the U.S. dollar index higher. The greenback is surging following the surprise Trump victory. Meantime, Nymex crude oil prices are slightly lower.
U.S. economic data due for release Thursday includes the weekly jobless claims report and the monthly Treasury budget statement.
Spot gold continued to lose momentum overnight as risk sentiment shifted following Trump's surprise victory. Spot gold on Kitoc.com hit a session high at $1,293.10 an ounce and a session low at $1,276.80 an ounce.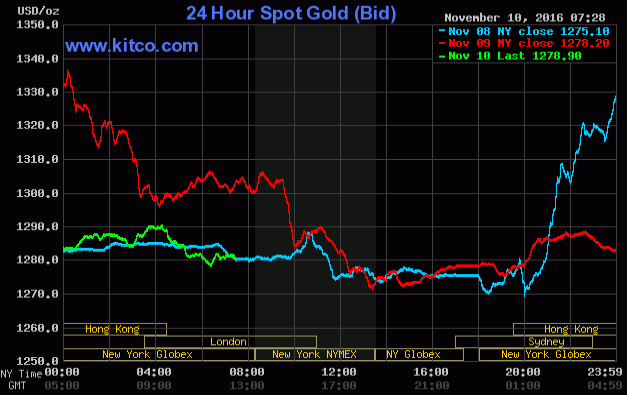 By Jim Wyckoff, contributing to Kitco News; jwyckoff@kitco.com
Follow Jim Wyckoff @jimwyckoff for breaking market news.