(Kitco News) – World stock markets were mixed to firmer overnight, but selling pressure was limited by higher crude oil and precious metals prices, which in turn supported energy and mining stocks.
Asian stock markets and precious metals markets were supported by comments from China's President Xi Jinping, who said his country will back a free trade area in the Asian region. That could mean more demand for raw commodities coming from China, the world's second-largest economy.
U.S. stock indexes are pointed toward firmer openings when the New York day session begins.
Gold prices are moderately higher to start the trading week, also lifted by bullish "outside markets" that include a weaker U.S. dollar index and higher crude oil prices.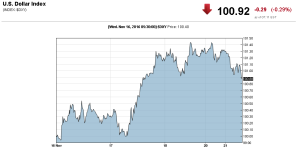 The U.S. dollar hit a 13-year high late last week and is seeing a corrective pullback on Monday. The stronger greenback has been causing selling pressure across the raw commodity sector.
Nymex crude oil prices are higher Monday morning as the marketplace debates OPEC's ability to cut its collective crude oil output ahead of the cartel's Nov. 30 meeting. The thinking of energy market watchers now is that the cartel may be able to come to a final agreement to cut production at next week's meeting, as Iran and Iraq are reportedly now backing the plan.
World bond markets have stabilized to start the trading week. However, traders and investors will continue to closely monitor global bond markets, as their yields have pushed significantly higher recently.
U.S. economic data due for release Monday is light and includes the Chicago Fed national activity index.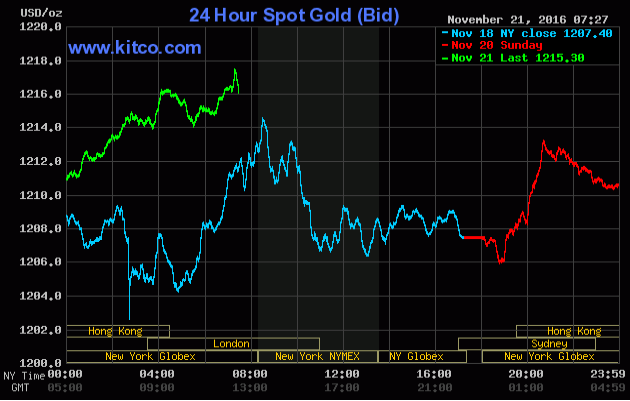 By Jim Wyckoff, contributing to Kitco News; jwyckoff@kitco.com
Follow Jim Wyckoff @jimwyckoff for breaking market news.