(Kitco News) – Global stock markets were narrowly mixed in quieter trading Friday, and awaiting the open of U.S. markets that were closed on Thursday for the Thanksgiving holiday. Japan's Nikkei stock index hit a 10-month high Friday amid the recent decline in the Japanese yen against the U.S. dollar.
U.S. stock indexes are pointed toward firmer openings when the New York day session begins. The major U.S. stock indexes have this week hit record highs, in the aftermath of the surprise U.S. presidential election that resulted in a win by Donald Trump. The "risk-on" behavior of the marketplace the past couple weeks has also worked against safe-haven gold. Gold prices are slightly lower in early U.S. trading.
In overnight news, the U.K. third-quarter gross domestic product report was released Friday and came in at up 0.5% from the second quarter and was up 2.3%, year-on-year. Those numbers were in line with market expectations.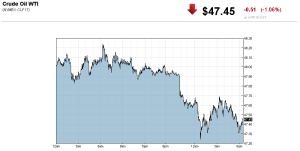 Nymex crude oil futures prices are lower in early U.S. trading.  Nymex prices were closing in on $50.00 a barrel earlier this week, before a corrective pullback occurred. Energy market watchers are awaiting the Nov. 30 OPEC oil cartel meeting. Some reckon OPEC may be able to come to a final agreement to cut production, but others remain highly doubtful. Reports Friday said Saudi Arabia, Russia, Iran and Iraq have differing ideas on the scope of any oil-production cuts.
The other key "outside market" on Friday sees the U.S. dollar index lower on a corrective pullback from recent strong gains that have pushed the index to a 13-year high.
Fridays after the U.S. Thanksgiving holiday on Thursday are typically one of the slowest trading days of the year in most markets. Several U.S. markets close early Friday, including the New York Stock Exchange.
U.S. economic data due for release Friday includes leading economic indicators and the U.S. flash services PMI.
Overnight, spot gold on Kitco.com continued to lose ground trading in a range with a high at $1,194.10 an ounce and a low at $1,176.90 an ounce.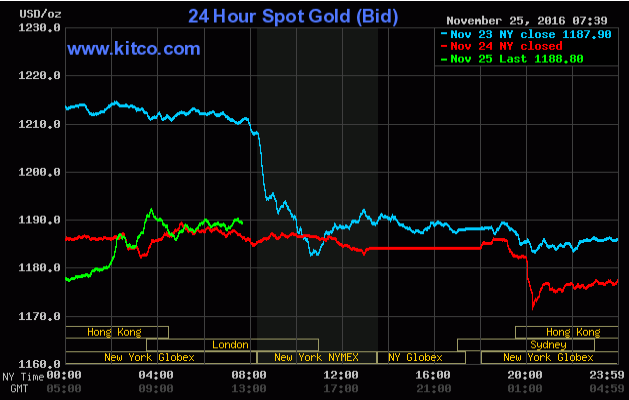 By Jim Wyckoff, contributing to Kitco News; jwyckoff@kitco.com
Follow Jim Wyckoff @jimwyckoff for breaking market news.