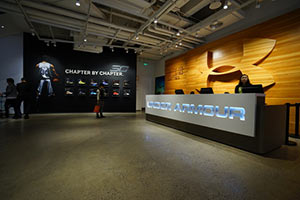 Under Armour stock just received a massive new catalyst today (Monday) that sent shares climbing 2.9% to $30.89 intraday.
The performance apparel, footwear, and accessory company just signed its first-ever deal to provide the uniforms for a major professional sports league.
In a game-changing agreement, Under Armour Inc. (NYSE: UA) signed a blockbuster 10-year deal with Major League Baseball that will start in the 2020 season. The reason for the 2020 effective start date of Under Armour's deal is the existing relationship between MLB and Majestic Athletic, which does not expire until after the 2019 MLB season.
The MLB deal marks a pivotal moment for Under Armour. It also marks the end of MLB's venerable relationships with Under Amour rivals Nike Inc. (NYSE: NKE) and Majestic Athletic.
Trending: Get the Best Investing Research Today to Grow Your Money
Financial terms of the deal were not disclosed. But we do know that Under Armour will become the provider of on-field uniforms, base layer and game-day outerwear, and training apparel for the league's 30 clubs.
Fanatics, a privately held licensed sports-gear manufacturer specializing in e-commerce, will manage the manufacturing and distribution of jerseys and other apparel under the agreement.
The MLB news comes as some analysts have expressed concern that Under Armour is spending too much of its marketing budget on endorsements.
Even despite today's rally, the Under Armour stock price is still down nearly 24% in 2016.
Now that we've digested today's Under Armour stock news, here's what investors need to look for now…
What's Next for Under Armour Stock in 2017