(Kitco News) – Global stock markets were mostly firmer overnight, following the lead from New York's higher close Tuesday. The Dow Jones Industrial Average this week hit has hit a record high. U.S. stock indexes are pointed toward slightly higher openings when the New York day session begins.
Gold prices are higher in early U.S. trading on a short-covering and bargain-hunting bounce following recent selling pressure that drove prices to a 10-month low this week.
In overnight news, U.K. industrial output in October was reported down 0.9%, month-on-month and down 0.4%, year-on-year. That was a big miss to the downside from market expectations.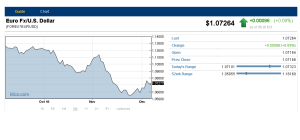 Traders and investors are awaiting Thursday regular meeting of the European Central Bank. Most expect the ECB to continue its bond-buying program into early next year, but after that there are mixed ideas on what the ECB will do. Market watchers are hoping at Thursday's meeting and press conference from bank president Mario Draghi that some new clues about ECB monetary policy plans for 2017 will be revealed.
The marketplace is also looking ahead to next week's U.S. Federal Reserve FOMC meeting. Most believe the Fed will raise interest rates for the first time in a year.
The key "outside markets" on Wednesday find Nymex crude oil prices slightly higher. Oil traders are awaiting the results of this weekend's meeting between OPEC and non-OPEC oil producers in Moscow, regarding implementing the cartel's stated intention to cut oil-production levels. Meantime, the U.S. dollar index is near steady in early U.S. trading.
U.S. economic data due for release Wednesday includes the weekly MBA mortgage applications survey, the weekly DOE liquid energy stocks report, and consumer installment credit.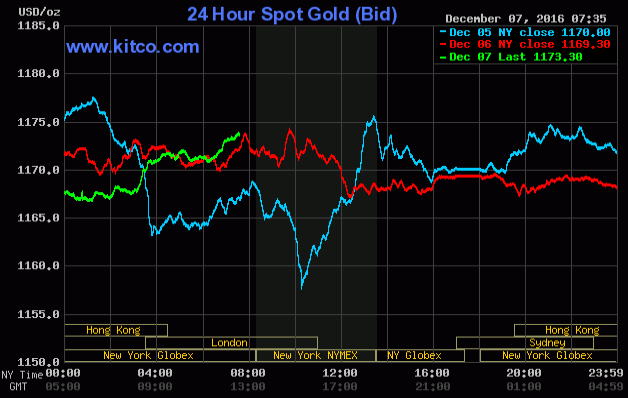 By Jim Wyckoff, contributing to Kitco News; jwyckoff@kitco.com
Follow Jim Wyckoff @jimwyckoff breaking market news.