(Kitco News) - Global equity markets were mostly firmer overnight as the U.S. dollar index has paused after streaking to a 13-year high on Thursday. Japan's Nikkei stock index hit a new high for the year on Friday. U.S. stock indexes are pointed toward firmer openings when the New York day session begins.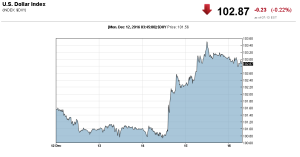 The greenback received a big boost late this week by a U.S. interest rate hike on Wednesday that was accompanied by a surprisingly hawkish tone on monetary policy from the Federal Reserve. There is now talk the Fed could raise interest rates up to three times in 2017.
Gold prices are firmer in early U.S. trading Friday, on a corrective bounce after hitting a 10-month low on Thursday.
There is now a camp of market watchers that wonders if the "Trump effect" of rising world stock markets due to notions of better economic growth worldwide in the coming year may have run its course. That being the case or not, marketplace attention will now focus more on actual economic data from the world's major economies, and less on speculation about what the new U.S.
president's administration may or may not do.
World government bond markets have settled down to end the trading week.
Much of this week bond markets were under selling pressure (rising yields) amid the specter of the Federal Reserve and other major central banks of the world beginning to tighten their monetary policies, which have been very easy for years. The U.S. 10-year Treasury bond's yield rose to a two-year high of 2.6% Thursday, in the wake of the Fed rate hike.
In overnight news, the Euro zone's consumer price index was down 0.1% in November and up 0.6%, year-on-year.  The figures were close to market expectations.
Reports said that China's central bank late this week pumped in more than 600 billion yuan into the banking system in an effort to stabilize domestic stock and bond markets. Don't be surprised if China's economic and financial developments become more important elements in the world marketplace daily trading mix, in the coming new year.
The key "outside markets" on Friday see the U.S. dollar index trading modestly lower on a corrective pullback. Nymex crude oil prices are trading slightly higher. The oil bulls appear to be tired after spiking prices to a 16-month high earlier this week. There are now technical clues the crude oil market has put in a near-term top.
U.S. economic data due for release Friday includes new residential construction data.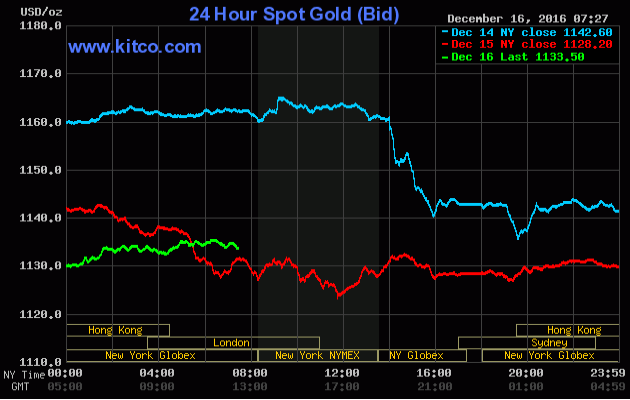 By Jim Wyckoff, contributing to Kitco News; jwyckoff@kitco.com
Follow Jim Wyckoff @jimwyckoff for breaking market news.