(Kitco News) – Global stock markets were mostly firmer overnight and U.S. stock indexes are pointed toward slightly higher openings when the New York day session begins Tuesday. The world marketplace has not shown big reactions to violence in Europe Monday that included the assassination of Russia's ambassador to Turkey and terror attacks in Berlin and Zurich that left over a dozen people dead. However, the European stock markets did see buying interest limited on the terror attacks, while the Euro currency dropped to a 13-year low overnight, due in part to the attacks.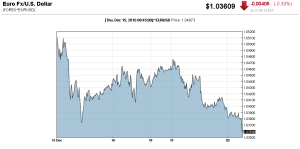 Many world stock markets are trading near multi-year and/or record highs and it would not be surprising to see those stock indexes at least pause, if not see some profit-taking, into the end of the year.
Any significant pullbacks in world stock markets would be a bullish development for the competing asset class, safe-haven gold. Gold prices are lower Tuesday and continue to suffer from very bearish technical charts.
In overnight news, the Bank of Japan released an upbeat assessment of the Japanese economy Tuesday. Japan is the world's third-largest economy. The BOJ also left its monetary policy unchanged at its regular meeting Tuesday.
The key "outside markets" on Tuesday see the U.S. dollar index trading higher and close to last week's 13-year high. Nymex crude oil prices are trading modestly higher after hitting a 16-month high last week. However, the Nymex oil bulls continue to struggle when prices are above the $50-a-barrel level.
U.S. economic data due for release Tuesday is again light and includes the weekly Goldman Sachs and Johnson Redbook retail sales reports.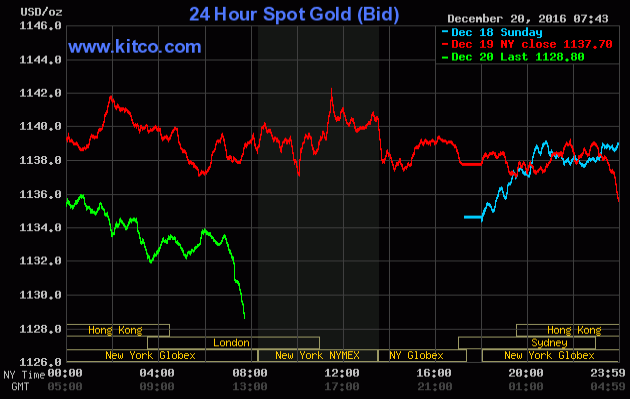 By Jim Wyckoff, contributing to Kitco News; jwyckoff@kitco.com
Follow Jim Wyckoff @jimwyckoff for breaking market news.