(Kitco News) – European stock markets were mixed overnight and Asian shares were generally higher Monday, with Australia's main stock index hitting a 19-month high.
U.S. stock indexes are pointed to steady to slightly lower openings when the New York day session begins. The marketplace is generally quieter to start the new trading week, with no major news developments to guide world stock and financial market traders.
Gold prices are moderately higher in early U.S. trading Monday as prices are in a three-week-old uptrend on the daily chart. Reports said investor monies are again starting to flow into gold exchange traded funds (ETFs).
In overnight news, the Euro zone unemployment rate came in at 9.8% in November, which was unchanged from October.
The U.S. dollar index is trading modestly higher Monday. The greenback bulls still have the firm overall technical advantage despite some choppy trading action the past week. The other key outside market finds Nymex crude oil prices trading lower amid increasing U.S. drilling rig counts levels and lingering doubts about OPEC's ability to adhere to its announced reduced collective oil output.
U.S. economic data due for release Monday is light and includes the employment trends index and consumer installment credit.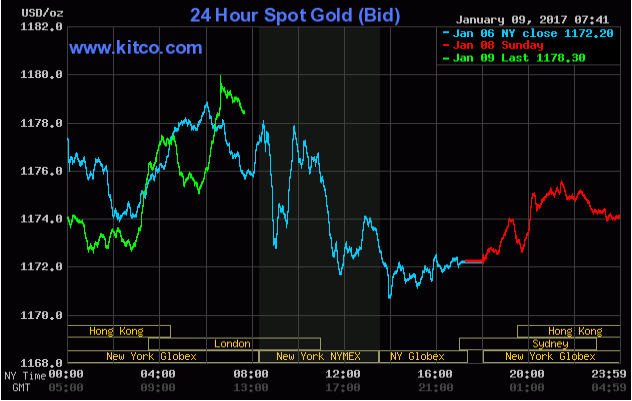 By Jim Wyckoff, contributing to Kitco News; jwyckoff@kitco.com
Follow Jim Wyckoff @jimwyckoff for breaking market news.