I'll be blunt: This is the perfect time to lay into ample supplies of gold and silver. I think that, here at the start of 2017, we're on the cusp of a good strong bull run for both metals.
After a frustrating second half of 2016, I see several undeniable reasons why demand will tighten up and prices for both of these popular investments will begin to surge.
I'm going to show where I think gold and silver will go in the short term and give you four reasons why I think precious metals investors could have an even better year than they think.
I believe we've seen the bottom, and the future prospects look bright, so let's take a look at my price forecast.
Metal Bears Are Running Out of Excuses
This hasn't always happened in the past, but the price of gold in 2016 suffered as a direct result of the market's reaction to a hike in the fed funds rate. For instance, in just the two hours following the Fed's Dec. 14 decision, gold plunged $19.
You can put this down largely to a lack of surprise at the Fed's decision. Remember, rate hike certainty was running at greater than 90% this December. Compare that to the previous rate hike, in December 2015, when the markets pegged the odds of that rate hike at just 50%.
So it's simple: When the markets are surprised, they run for gold, thanks to its legendary status as a hedge.
The silver picture is similar. Its slide started in the summer of 2016 after hitting a yearly high of $20.59. Skittish traders sold and sold some more, fearing it would go lower in a kind of self-fulfilling prophecy.
Trump's unexpected victory in the November election didn't do silver and gold any favors. The U.S. Dollar Index's (DXY) meteoric rise since November has created some short-term resistance for the white metal, since, like gold, it directly competes with the dollar.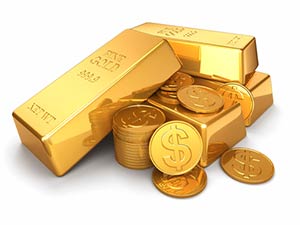 But like I said, the odds are very strong that we've seen the bottom of this metal correction.
Indeed, we've already seen a steep pullback in "smart money" shorts, in other words, gold and silver producers who bet on futures to protect their downside. Since July, gold producers alone have pruned their short positions from 340,000 back to 155,000, as of Dec. 5. That drop of 54% in just six months indicates bearish metals sentiment is running on fumes.
And now the stage is set for both gold and silver to move considerably higher in the new year.
Here's why...
Gold & Silver Catalyst No. 1: The "Surprise" Metal Demand No One Predicted
There's an interesting element to the demand picture, one that's not being talked about. It is, of course, India.
The world's largest democracy is a huge consumer of precious metals for all sorts of cultural and economic reasons. And it turns out that India had a surprise of its own on Nov. 8.
Join the conversation. Click here to jump to comments…
About the Author
Peter Krauth is the Resource Specialist for Money Map Press and has contributed some of the most popular and highly regarded investing articles on Money Morning. Peter is headquartered in resource-rich Canada, but he travels around the world to dig up the very best profit opportunity, whether it's in gold, silver, oil, coal, or even potash.