(Kitco News) – European and Asian stock markets were mixed in subdued trading overnight. U.S. stock indexes are pointed toward slightly higher openings when the New York day session begins.
Gold prices are modestly down on a corrective pullback following good gains Thursday that pushed prices to a 2.5-month high.
Traders worldwide are awaiting what is arguably the most important U.S. economic report of the month: Friday morning's employment report for January from the Labor Department. The key non-farm payrolls number of the report is expected to come in at up 175,000. However, with a stronger ADP jobs report that was issued Wednesday, the more important Friday jobs number could come in stronger than the present forecasts.
In overnight news, China's central bank tightened its monetary policy by raising interest rates on loans charged to commercial banks. The move was an effort to ease rising demand for raw commodities in China. This news is a bearish element for the raw commodity sector, including precious metals.
Also Friday, China's Caixin manufacturing purchasing managers' index (PMI) fell to 51.0 in January from 51.9 in December. A reading above 50.0 suggests growth in the sector.
Meantime, the Euro zone composite PMI for January came in at 54.4, which was unchanged from December.
Traders are still watching proclamations from U.S. President Donald Trump.
The no-holds-barred president on Friday tweeted the Iran is "playing with fire" with the U.S. and that he would not be nice to them, like former President Obama. World stock markets have been jittery ever since Trump took office on January 20 and began to "shake things up."
The U.S. dollar index is higher on a corrective bounce after hitting a 2.5-month low on Thursday. The dollar index is in a four-week-old downtrend on the daily bar chart and the greenback bears have the near-term technical advantage.
The other key "outside market" on Friday sees Nymex crude oil prices trading firmer. Bulls are having a good week as oil prices have seen a mild upside breakout from the recent choppy, sideways trading range.
Other U.S. economic data due for release Friday includes the U.S. services PMI, manufacturers' shipments and inventories, the ISM non-manufacturing report on business, and the global services PMI.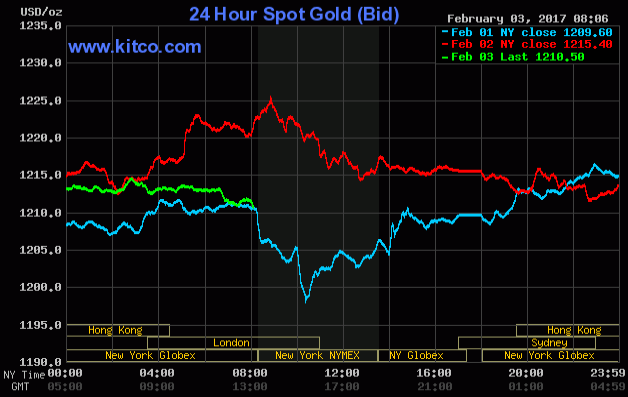 By Jim Wyckoff, contributing to Kitco News; jwyckoff@kitco.com
Follow Jim Wyckoff @jimwyckoff for breaking news.