(Kitco News) – World stock markets were mostly firmer to start the new trading week, following the good gains posted by U.S. equities last Friday. U.S. stock indexes are pointed toward slightly lower openings when the New York day session begins.
Gold prices are moderately higher and hit a 2.5-month high overnight. Prices are in a six-week-old uptrend on the daily bar chart amid recent safe-haven demand and perceived bargain hunting.
It's a light week for U.S. economic reports, so traders and investors will still be focusing upon proclamations from U.S. President Donald Trump. On Friday, Trump took action to roll back the Dodd-Frank banking regulations. Later this week Trump meets with Japanese Prime Minister Shinzo Abe.
The marketplace is still buzzing a bit about Friday's U.S. employment report from the Labor Department. While the key non-farm payrolls number beat market expectations to the upside, the slowdown in U.S. wage growth leads many to believe the Federal Reserve may have to slow down its intended pace of interest rate increases this year. Such a scenario favors the raw commodity market bulls, who arguably in recent years have mostly benefitted from extremely low U.S. interest rates.
The U.S. dollar index is slightly higher on a corrective bounce after hitting a 2.5-month low late last week. The dollar index is in a four-week-old downtrend on the daily bar chart and the greenback bears have the near-term technical advantage.
The other key "outside market" on Monday sees Nymex crude oil prices trading slightly higher. Oil prices are trading in the upper boundary of the recent sideways and choppy trading range. Stiff technical resistance layers are located just above the market.
U.S. economic data due for release Monday is light and includes the employment trends index.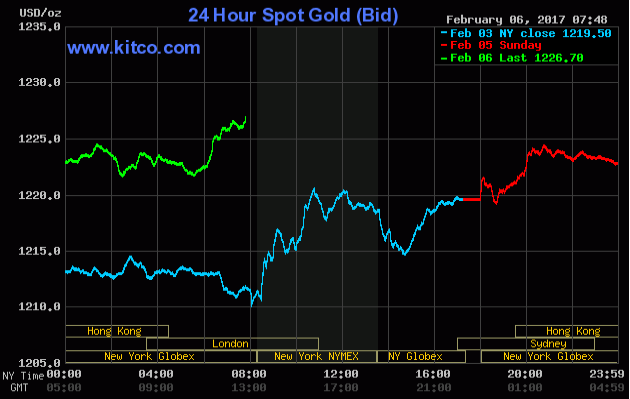 By Jim Wyckoff, contributing to Kitco News; jwyckoff@kitco.com
Follow Jim Wyckoff @jimwyckoff for breaking news.