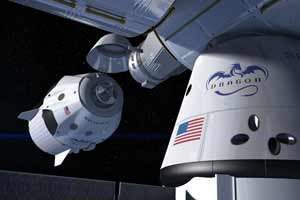 SpaceX stock would be worth an estimated $12 billion if it went public today (Monday), based on its current private valuation of $12 billion.
However, this is an estimate since the SpaceX share price would depend on the number of shares issued during the SpaceX IPO. Since a company's market capitalization can be defined as its publicly traded valuation, the combined value of all shares of SpaceX stock would be equal to that $12 billion private valuation.
But because we have no details on a potential IPO, we won't know for sure how much SpaceX stock is worth until CEO Elon Musk offers more details on its market debut.
While investors are clamoring for a SpaceX IPO, there's one important reason why Musk hasn't set a SpaceX IPO date - and probably won't anytime soon...
Why SpaceX Stock Will Remain Privately Owned in 2017
The biggest reason why SpaceX won't file to go public this year is Musk's plan to colonize Mars.
You see, building a human colony on Mars has always been SpaceX's long-term mission. Musk ultimately wants to be able to send people to Mars for cheap - a goal whose implausibility has fueled Musk's determination to make it happen.
Must Read: Former Google Exec Quits Dream Job to Launch Marijuana Empire
"SpaceX is like Special Forces... we do the missions that others think are impossible," Musk says on SpaceX's website. "We have goals that are absurdly ambitious by any reasonable standard, but we're going to make them happen."
According to a September 2016 report by Wired, Musk estimated a single ticket to Mars would cost about $10 billion. But he plans to significantly reduce that expense to $200,000 - about the cost of a two-bedroom house in Madison, Wis.
But Musk has repeatedly said he doesn't plan to start colonizing Mars until 2022. When he said in 2015 that a SpaceX IPO would happen "once flights to Mars begin," investors took it as an indication there won't be an offering until 2022 at the earliest.
The years-long tease has the investing public anxious for a SpaceX IPO, especially as the company continues to rake in billions in revenue.
In fact, this recent SpaceX news shows how the firm is set up for long-term profits even before flights to Mars begin...
This News Just Boosted Interest in the SpaceX IPO