(Kitco News) – Global stock markets were mixed overnight. Asian shares were mostly higher and European shares were narrowly mixed. U.S. stock indexes are pointed toward narrowly mixed openings when the New York day session begins.
Gold prices are slightly higher Friday morning. The yellow metal bulls are having their best week in quite some time.
The marketplace is intently monitoring the Group of 20 finance ministers meeting in Germany that is taking place through the weekend. The specter of currency wars breaking out has become more plausible with the new U.S. Trump administration and its accusations that several major countries are currency manipulators.
U.S. President Trump meets German Chancellor Merkel at the White House Friday.
The key outside markets on Friday morning see the U.S. dollar index trading weaker. The greenback bulls have faded badly this week, to suggest the dollar index has put in  a near-term market top. Meantime, Nymex crude oil prices are slightly higher today on a corrective and short-covering bounce after hitting a four-month low on Tuesday. The crude oil bears appear to be exhausted after recent strong selling pressure, which hints at a near-term market bottom being in place.
U.S. economic data due for release Friday includes industrial production and capacity utilization, leading economic indicators and the University of Michigan consumer sentiment survey.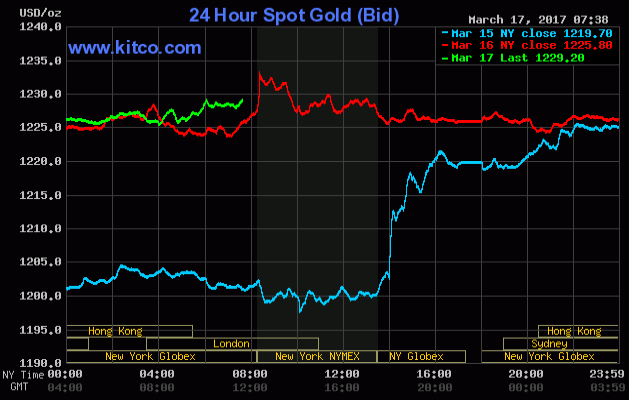 By Jim Wyckoff, contributing to Kitco News; jwyckoff@kitco.com
Follow Jim Wyckoff @jimwyckoff for breaking news.