(Kitco News) – Asian and European stock markets were mixed Tuesday. European bank shares were supported after a debate by France's presidential candidates Monday evening. Polls showed the centrist candidate besting the anti-Euro candidate Marine Le Pen. U.S. stock indexes are pointed toward firmer openings when the New York day session begins.
Gold prices are modestly lower Tuesday morning on a corrective, profit-taking pullback from recent good gains.
In other overnight news, the British pound rallied after some stronger-than-expected U.K. inflation data. Consumer prices rose 2.3% in February, year-on-year, which was higher than the marketplace expected and at a three-year high. This report continues a theme of rising inflation in the world's major economies. If this trend continues it would be bearish for world bond markets and bullish for most raw commodity markets, including the precious metals.
The key outside markets on Tuesday morning see the U.S. dollar index trading solidly lower and hit another six-week low overnight. The greenback bears have technical momentum on their side to suggest more selling pressure this week. Meantime, Nymex crude oil prices are firmer today, despite the bearish specter of growing world oil supplies. The crude oil bears still have the firm near-term technical advantage following the recent steep downdraft in prices. Also, a bearish pennant or flag pattern has formed on the daily bar chart.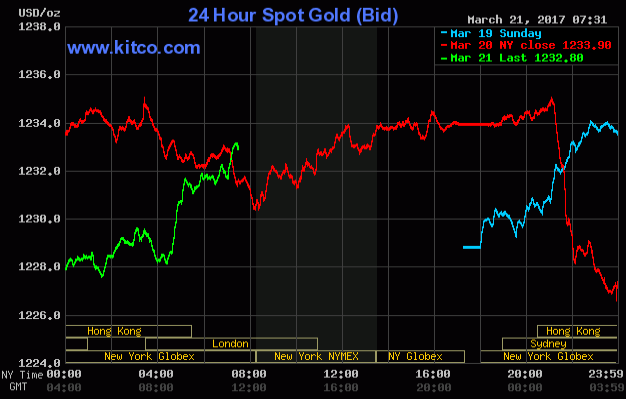 U.S. economic data due for release Tuesday includes the Johnson Redbook and Goldman Sachs retail sales reports, and the international trade report.
By Jim Wyckoff, contributing to Kitco News; jwyckoff@kitco.com
Follow Jim Wyckoff @jimwyckoff for breaking news.