(Kitco News) - World stock markets were mostly firmer to start the second quarter of the year Monday. U.S. stock indexes are pointed toward slightly higher openings when the New York day session begins. China markets were closed for a holiday Monday.
Gold prices traded weaker overnight. The yellow metal bulls have faded a bit after a recent rally and amid a resurgent U.S. dollar index.
In overnight news, the Euro zone unemployment rate in February fell to an eight-year low of 9.5% versus 9.6% in January. Meantime the Euro zone February producer price index came in at up 4.5%, year-on-year, which was higher than expected and continues a theme of rising inflationary pressures in the world's major economies. The Euro zone manufacturing PMI came in at 56.2 in March, which was in line with market expectations.
The world marketplace will closely monitor this week's meeting between U.S. President Donald Trump and Chinese leader Xi Jinping. The key U.S. employment report is also out on Friday morning.
The key outside markets on Monday morning see the U.S. dollar index higher. The index has seen a solid rebound from a 3.5-month low hit last week and the bulls have the slight overall near-term technical advantage. Meantime, Nymex crude oil prices are near steady. The oil bulls have good upside technical momentum to suggest a near-term market bottom is in place.
U.S. economic data due for release Monday includes the U.S. manufacturing purchasing managers' index (PMI), construction spending, the ISM manufacturing report on business, the global manufacturing PMI, and domestic auto industry sales.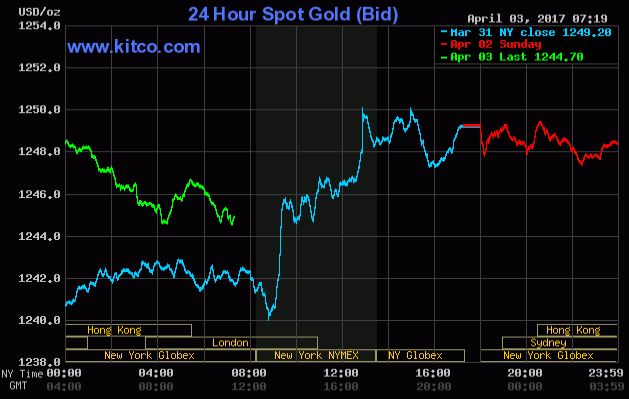 By Jim Wyckoff, contributing to Kitco News; jwyckoff@kitco.com
Follow Jim Wyckoff @jimwyckoff for breaking news.