"Eight straight down days on the Dow!"… "The worst streak since 2011!"… "The rally is history!"
The hysteria over the failure of the Trump-Ryan healthcare reform bill last Friday sent the media into panic overdrive. Surely the failure of the Republican leadership to gin up support for the quickly thrown-together legislation meant the end of the post-election rally…
The chatter last week was so alarming that it seemed like each talking head was scrambling to beat every other talking head in the Doomsayers' Stakes. They made it seem like financial Armageddon was just around the corner.
But of course the drop didn't really add up to much – just 1.7%. Hardly a drop of apocalyptic proportions.
Like I've been saying in my new 10-Minute Millionaire service, much more importantly, that drop gave us a nice leisurely weeklong-and-change buying opportunity for otherwise perfectly strong stocks.
That's the key to making big money in a market that's blazing through a "streak of streaks."
So let's look at where we're headed next…
History Is Working for the Bulls Here
Since Oct. 11, 2016, the market went an amazing 109 trading days without a 1% close-to-close drop. It's not quite the "Halley's Comet" of the markets, but it's an occurrence rare enough that it has only happened seven times in the last 63 years.
And now we get this most recent streak of eight straight down days on the Dow Jones Industrial Average.
Interesting, yes, but also important.
In the last 17 years, this has only happened three other times. And they were all smack in the middle of big down markets runs in 2001, 2008, and, of course, in 2011.
If you're like me, you'll be curious about how this drop compares to the other recent eight-down-day streaks. Here are some stats from one of my favorite quants, Ryan Detrick of LPL Financial:
2017: -1.7%
2011: -6.7%
2008: -22.1%
2001: -17.9%
Detrick also notes that in the last 117 years, there have been 29 separate eight-day losing streaks in the Dow. Only one of the 29 (that happened in 1941) has been smaller than this one.
More importantly (and this is key), none of the other 29 instances have happened so close to an all-time high in the index (this one is within 2.7% of the high set on the first day of March).
Well, so what?
Our Market Narrative Is Spotlighting Opportunities
Over the past few weeks, I've been making a strong case for the continued bull run and recommending making moves into good stocks when specific sectors take a breather. I think this is such a strong case because, as charts show, markets just don't make significant dives from all-time highs.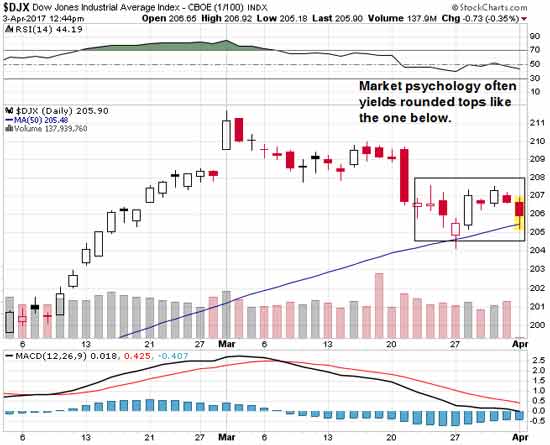 I'll tell you why. It's got everything to do with who's working in the markets: Traders and investors.
Join the conversation. Click here to jump to comments…
About the Author
D.R. Barton, Jr., Technical Trading Specialist for Money Map Press, is a world-renowned authority on technical trading with 25 years of experience. He spent the first part of his career as a chemical engineer with DuPont. During this time, he researched and developed the trading secrets that led to his first successful research service. Thanks to the wealth he was able to create for himself and his followers, D.R. retired early to pursue his passion for investing and showing fellow investors how to build toward financial freedom.