(Kitco News) – The world marketplace is reacting to the surprise U.S. military strike on a Syrian government air base after the Syrian government used poisonous gas on its civilians this week. Gold, U.S. Treasuries and oil prices initially shot higher and stock markets sold off. However, the markets have since settled down and are generally calm as the U.S. day sessions are set to open. Still, there is now keener risk aversion on this last trading day of the week.
Traders and investors are awaiting the reaction from Russia and any follow-up action or comments from the Trump Administration.
Most world stock markets were lower overnight and the U.S. stock indexes are pointed toward slightly lower openings when the U.S. day session begins.
Gold prices hit a five-month high overnight. However, prices have backed well down from those highs but are still holding good gains just ahead of the U.S. day session.
The monthly U.S. employment report is out Friday morning. The key non-farm payrolls number was seen coming in at up around 180,000 in March. However, Wednesday's much-larger-than-expected rise of 263,000 jobs in the March ADP employment report saw many ratchet up their forecasts for the Labor Department's jobs report on Friday morning. Markets could become more active in the immediate aftermath of the jobs data.
Traders and investors are closely watching the meetings between U.S. President Donald Trump and Chinese leader Xi Jinping. The leaders of the world's two largest economies could come into some conflict over trade and currency matters, and on how to deal with North Korea.
In other overnight news, the Euro zone's housing prices rose at the fastest pace in nine years in the fourth quarter of 2016-up 0.8% from the third quarter and up 4.1% from the same period in 2015.
The key outside markets on Friday morning see the U.S. dollar index higher. The greenback bulls have the overall near-term technical advantage. Meantime, Nymex crude oil prices are up and hit a four-week high overnight. The oil bulls have upside technical momentum to suggest prices can at least trade sideways, if not sideways to higher, in the near term. However, the market is now due for a corrective pullback soon.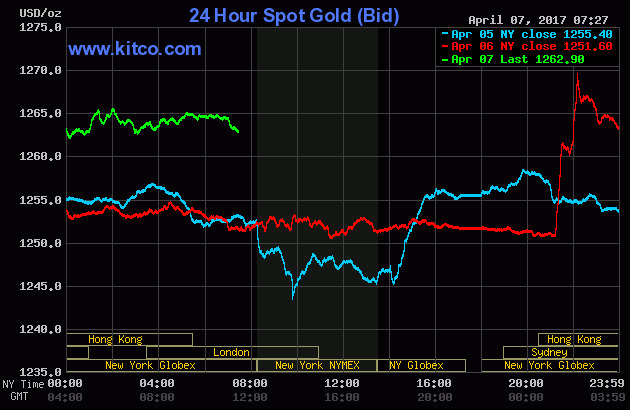 Other U.S. economic data due for release Friday includes the monthly wholesale trade report and consumer installment credit.
By Jim Wyckoff, contributing to Kitco News; jwyckoff@kitco.com
Follow Jim Wyckoff @jimwyckoff for beaking news