We've just added a new "stock to buy now" pick to our watch list, and this stock could hand you a 133% profit over the next year.
You see, this company ties into the massive growth of one of the most-watched economic metrics: global trade.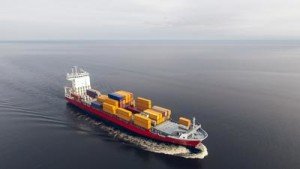 Global trading activity is a popular gauge of global economic health. When countries trade with one another, fundamental factors (like supply and demand) and even political factors (like new laws) give one country advantage over the other. This lets economies grow more efficiently because the trading makes them become competitive participants in the global economy.
For example, if China were to increase its cost of labor, an American shoe company based in China would have to increase manufacturing costs. That would likely end up costing customers more money when they go to buy the shoes at their local store. While both the U.S.-based company and China ultimately get what they want, China has the better end of the trade. That's because it maintains leverage over the laws that govern where the shoes are made.
While the macroeconomics of global trading activity can be complicated, the health of the global trade and shipping industry can be boiled down to just one number.
And according to Money Morning Resource Specialist Peter Krauth, this number's recent movement shows why our latest stock pick could offer a huge 133% return by April 2018…
This Number Measures the Health of the Entire Global Economy
The best measure of the global shipping industry – and therefore global economic health – is the Baltic Dry Index (BDI).
Created in 1985, the BDI follows the price of shipping wheat, cement, coal, and other crucial raw materials around the world. The index follows the activity of three different categories of bulk carrier ships: Panamax, Capesize, and Supramax.
If you combine the total number of shipping routes for all three carrier classes, the BDI tracks the activity of 50 different routes.
"It's especially relevant because this segment of economic activity, the shipping of raw goods, is often early in the production chain," Krauth told Money Morning Members on April 12. "That makes the BDI a widely regarded leading indicator of commercial activity."
But the BDI has endured several periods of volatility over the last decade, as you can see in this chart…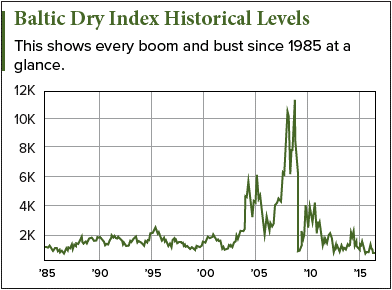 During the 2008 financial crisis, cargo ships full of goods sat dormant at their ports. Exporting countries didn't have faith in the credit payments of the countries they were sending goods to.
This bankrupted many shipping companies and caused the BDI to collapse a stunning 93.9% from 11,648 in May 2008 to 711 in December 2008.
Urgent: The Best Stocks to Buy for Mega-Profits in 2017
But despite some volatility in 2011, the BDI index has significantly rebounded from those 2008 lows. It has gained 82.3% since December 2008 and 34.9% in 2017 alone. Right now, it hovers near 1,296.
This indicates how the bulk shipping market is quickly returning to profitability. From mid-February to late March, shipping rates soared a whopping 85%.
Meanwhile, commodity prices are steadily climbing, with the Bloomberg Commodity Index up 2.6% from its March 14 low.
"The shipping industry looks like it's finally emerging from its multiyear retreat," Krauth explained. "Ship fleets are projected to see long-term growth decelerate considerably, portending strong support for higher shipping rates for the foreseeable future."
That's why Krauth wants you to consider his stock recommendation.
Shares of this company are cheap right now, trading just above $8. However, they won't be cheap for long, as we project them to soar as much as 133% over the next 12 months…
The Best Stock to Buy Now to Profit from the Global Shipping Industry