(Kitco News) – European stock markets were a bit weaker overnight, after a suspected terror attack in France and ahead of the French presidential elections on Sunday.Asian stock markets were mostly firmer. U.S. stock indexes are pointed toward narrowly mixed openings when the New York day session begins.
Gold prices are near steady in pre-U.S. trading.
An apparent terror attack in Paris left one police officer dead.
The first round of the French presidential elections will be held Sunday.
The second round will be on May 7. European market watchers are getting more nervous as the French elections approach and polls show tight races. The very existence of the European Union could hinge upon elections in the European Union this year.
U.S. shares will be supported by news late Thursday that the Trump Administration is now pushing for swift tax reforms.
Heading into the weekend there are still geopolitical tensions–the U.S. and North Korea, and the U.S. and Russia. This week's hawkish U.S. posturing against its world adversaries is unsettling for many world market watchers and is also a bullish element for safe-haven gold.
In overnight news, the Euro zone composite purchasing managers index (PMI) came in at 56.7 in April versus 56.4 in March. The reading for April was slightly higher than market expectations. A number above 50.0 suggests growth.
The key outside markets on Friday morning see the U.S. dollar index higher on a corrective bounce from this week's selling pressure. Meantime, Nymex crude oil prices are near steady following strong selling pressure seen Wednesday, on ideas of rising U.S. crude oil production levels.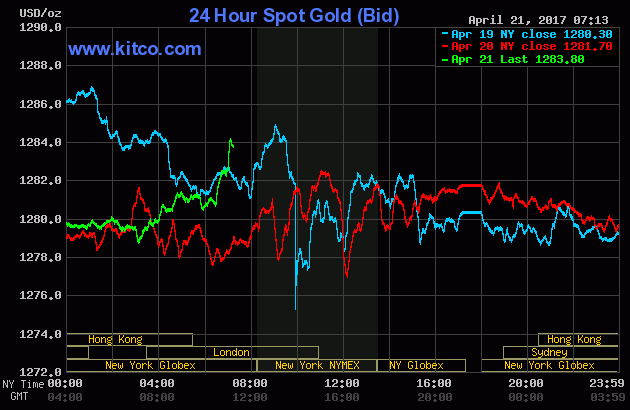 U.S. economic data due for release Friday includes the U.S. flash services PMI, the U.S. manufacturing PMI, and existing home sales.
By Jim Wyckoff, contributing to Kitco News; jwyckoff@kitco.com
Follow Jim Wyckoff @jimwyckoff for beaking news