(Kitco News) – World stock markets were mostly weaker overnight, pressured in part by disappointing earnings results from the world's largest-capitalized company, Apple, after the close on Tuesday. U.S. stock indexes are pointed toward modestly lower openings when the New York day session begins.
Gold prices were weaker overnight as the market continues to erode amid less risk aversion in the marketplace the past couple weeks.
In overnight news, the Euro zone's first-quarter gross domestic product was reported at up 0.5% from the fourth quarter and up 1.7%, year-on-year. Those numbers were right in line with market expectations. The Euro zone producer price index was reported down 0.3% in March from February and up 3.9%, year-on-year. Those numbers were not has hot as market expectations.
The markets' data-point highlights of the week are the Federal Reserve's Open Market Committee (FOMC) meeting that began Tuesday and ends Wednesday afternoon with a statement, and Friday morning's U.S. jobs report from the Labor Department. No change in U.S. monetary policy is expected at this week's FOMC meeting. However, as usual, the wording of the FOMC statement released early Wednesday afternoon will be parsed for any clues on future U.S. monetary policy moves. The key non-farm payrolls number in Friday's U.S. jobs report is forecast to come in at up around 190,000.
Traders and investors are also looking ahead to this weekend's French presidential elections. A surprise win by the right-wing candidate Marine Le Pen would likely roil many stock and financial markets. Market watchers remember that Donald Trump was not expected to win the U.S. presidential election, either.
The key outside markets on Wednesday morning see the U.S. dollar index trading slightly higher. The greenback bears still have the overall near-term technical advantage. Meantime, Nymex crude oil prices are slightly higher but the bears have the near-term technical advantage as prices hit a 5.5-month low on Tuesday.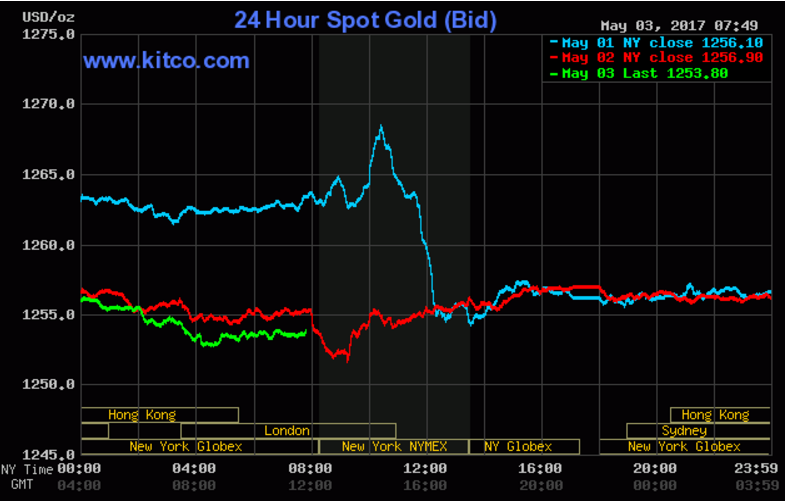 U.S. economic data due for release Wednesday includes the weekly MBA mortgage applications survey, the ADP national employment report, the U.S. services PMI, and the ISM non-manufacturing report on business.
By Jim Wyckoff, contributing to Kitco News; jwyckoff@kitco.com
Follow Jim Wyckoff @jimwyckoff for breaking news.