(Kitco News) – World stock markets were mostly weaker overnight. U.S. stock indexes are also pointed toward slightly lower openings when the New York day session begins.
Sunday's French presidential election saw the centrist candidate Emmanuel Macron easily defeat the right-wing candidate Marine LePen. Macron was expected to win handily and world markets did not show a significant reaction. The Euro currency hit a seven-month high early Monday, but then backed off.
Gold prices are holding decent gains in pre-U.S. trading, on short covering and bargain hunting following recent selling pressure.
In overnight news, China's April imports were reported up 11.9%, year-on-year, while exports were up 8.0%. Both of those numbers, while hefty, did not meet market expectations and continue a pattern of a slowing pace of economic growth for the world's second-largest economy.
A feature in the marketplace last week was the steep drop in crude oil prices. Nymex crude oil futures prices Friday hit a low of $43.76 a barrel, which is a 12.5-month low. Friday's high-range close does hint the oil bears are exhausted.  Oil prices early Monday are trading near steady at just above $46.00.
The other key outside markets early Monday morning sees the U.S. dollar index trading firmer on short covering after hitting a nearly six-month low overnight. The greenback bears have the overall near-term technical advantage.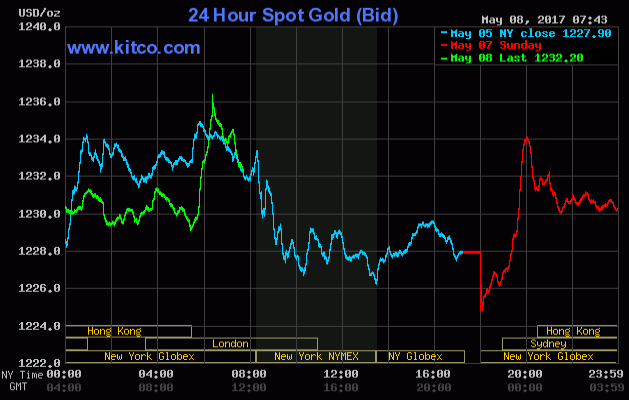 There is no major U.S. economic data due for release Monday.
By Jim Wyckoff, contributing to Kitco News; jwyckoff@kitco.com
Follow Jim Wyckoff @jimwyckoff for breaking news.