These are the 10 best penny stocks to watch this week, because they've all posted gains of at least 21% in the last seven days (May 29 to June 5)…
| | | |
| --- | --- | --- |
| Penny Stock | Current Share Price | Weekly Return (May 29 – June 5) |
| Liniu Technology Group (Nasdaq: LINU) | $0.37 | +75.4% |
| Inventergy Global Inc. (Nasdaq: INVT) | $0.23 | +46.9% |
| ChinaCache International Holdings Ltd. (Nasdaq: CCIH) | $1.37 | +42.6% |
| SuperCom Ltd. (Nasdaq: SPCB) | $3.03 | +33.6% |
| PAVmed Inc. (Nasdaq: PAVM) | $4.75 | +28.9% |
| Adamis Pharmaceuticals Corp. (Nasdaq: ADMP) | $4.69 | +26.8% |
| Wowo Ltd. (Nasdaq ADR: JMU) | $2.12 | +25.4% |
| Luby's Inc. (NYSE: LUB) | $3.15 | +25% |
| Cumulus Media Inc. (Nasdaq: CMLS) | $0.50 | +24.7% |
| TrovaGene Inc. (Nasdaq: TROV) | $0.79 | +21.9% |
The Biggest IPO of the Year: A highly anticipated IPO will happen any day now, and analysts are projecting a massive 254% gain right off the bat for private investors. But you must hurry. Read more…
The top penny stock of the week is Liniu Technology Group. Shares of the Chinese agricultural services company have surged 75.4% to $0.37 over the last week mostly due to its Q1 2017 earnings report released on Wednesday, May 31. Liniu posted a loss of $0.01 per share – up from a loss of $0.06 per share during the year-ago quarter. This sent the LINU stock price up 65.9% on Wednesday alone.
However, we don't recommend investing in any of the penny stocks listed above. Since they've all posted big double-digit gains, it could be risky to buy shares now if they've already peaked.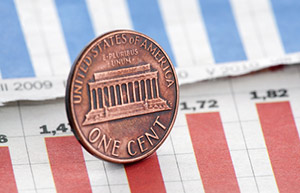 Additionally, investors should know that penny stock investing is inherently risky. Companies listed on over-the-counter (OTC) exchanges or on the pink sheets aren't regulated as closely as the major exchanges. That means they're capable of being downright fraudulent and cheating investors out of their money.
It's important to research a company's financials to see if they're a legitimate and well-run business worthy of your investment. But conducting this research is usually an arduous task that requires going through long, dense 10-K reports and quarterly filings.
That's why we do the research for you here at Money Morning. And Money Morning Small-Cap Specialist Sid Riggs recommends buying shares of one small-cap company in the financial tech – or "fintech" – sector.
Since first recommending it on April 19, this stock has gained 16.9% to just over $8 a share. And analysts say it could return as much as 34.5% by June 2018.
Here's Sid's pick…
One of the Best Small-Cap Stocks to Buy for 34.5% Profit