(Kitco News) – World stock markets were mostly higher overnight. U.S. stock indexes are also pointed toward firmer openings when the New York day session begins.
Gold prices are weaker and hit a four-week low overnight. Gold bulls have faded the past two weeks, on ideas of a more hawkish U.S. Federal Reserve and amid a quieter geopolitical front.
In overnight news, there was another potential terror attack in London Sunday when a car rammed a crowd of people and killed at least one. The markets were not impacted by the event.
European stock markets were supported by French elections Sunday that favored the French centrist president, Macron. Recent elections in the U.K.
also saw voters tend to move away from right wing nationalist candidate Theresa May.
The key "outside markets" on Monday morning see Nymex crude oil futures prices slightly higher on short covering following recent selling pressure. The oil market bears still have the solid overall near-term technical advantage as prices are trading bear $45.00 a barrel. There continue to be notions of a worldwide oil supply glut that will continue to depress prices for some time to come.
Meantime, the U.S. dollar index is near steady early today. The greenback bears still hold the overall near-term technical advantage as prices last week hit a seven-month low.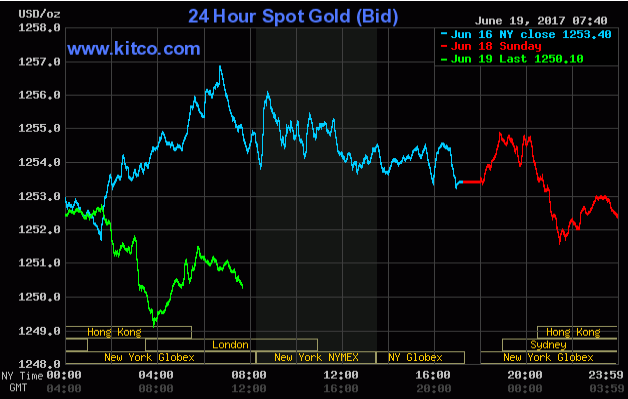 There is no major U.S. economic data due for release Monday, and it will be a quieter week, overall, for U.S. reports.
By Jim Wyckoff, contributing to Kitco News; jwyckoff@kitco.com
Follow Jim Wyckoff @jimwyckoff for breaking news.