This list compiles the top tech penny stocks to watch in June 2017, and includes the biggest gainers of the month so far. Plus, we'll give you one of our top tech stock picks this year after the chart...
| | | |
| --- | --- | --- |
| Tech Penny Stock | Current Share Price | June 2017 Return |
| MoSys Inc. (Nasdaq: MOSY) | $2.07 | +213.6% |
| Ability Inc. (Nasdaq: ABIL) | $1.20 | +103.4% |
| China Techfaith Wireless Comm. Tech. Ltd. (Nasdaq: CNTF) | $3.33 | +47.5% |
| The9 Limited (Nasdaq ADR: NCTY) | $1.28 | +40.3% |
| ChinaCache International Holdings Ltd. (Nasdaq: CCIH) | $1.32 | +38.4% |
| NII Holdings Inc. (Nasdaq: NIHD) | $0.74 | +30.3% |
| Technical Communications Corp. (Nasdaq: TCCO) | $3.65 | +28.6% |
| ARI Network Services Inc. (Nasdaq: ARIS) | $6.73 | +23.8% |
| Research Frontiers Inc. (Nasdaq: REFR) | $1.32 | +23.6% |
| Wowo Ltd. (Nasdaq ADR: JMU) | $2.04 | +20.7% |
The tech sector is having one of its roughest months of 2017. On June 9, the bellwether Nasdaq index fell 1.8% thanks to its heaviest component, Apple Inc. (Nasdaq: AAPL), plunging 3.9%. That was the company's biggest one-day decline since January 2016. Although the Nasdaq is still up 0.3% month to date, it's on track for its worst monthly performance of the year. Out of the first five full months of the year, March saw the worst Nasdaq performance with a 1.5% gain.
The Best Pot Stocks: After months of research, we've found the most lucrative and fastest-growing legal pot stocks in America. And for a limited time, you can get all the details for free. Learn more...
Despite volatility in the broader tech sector, tech penny stocks have still managed to post market-smashing returns this month...
The top performer of June so far is MoSys Inc., a semiconductor company based in Santa Clara, Calif. Shares of MOSY stock are up this month 213.6% from $0.66 to $2.07 on the back of a Q1 earnings report that announced the firm has around $5.3 million in cash on hand. This indicates the company is inching toward profitability, which was a likely reason for the increase in buying.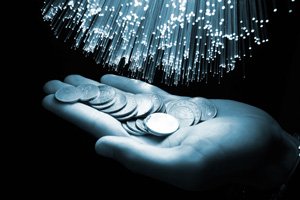 But as attractive as those gains are, we don't recommend buying MOSY or any other tech penny stock listed above. Since they've already seen big double-digit and triple-digit returns, they might not offer a big profit to investors who buy in now at a high price.
Chasing after soaring penny stocks like these is also extremely dangerous for retail investors who haven't done the right research. When investing in penny stocks, digging through financial documents like annual 10-K filings and quarterly reports is paramount to finding safe companies that are profitably growing - and therefore are worth your money.
That's where Money Morning Small-Cap Specialist Sid Riggs comes in. He meticulously pours over this research for our readers. Today, he's currently recommending one of the best small-cap tech stocks to buy this year.
The company he's watching is a dominant force in the financial tech - or "fintech" - industry, which is growing at a rapid pace. Fintech companies are changing the banking landscape because they're letting people make financial transactions over their mobile devices instead of at the bank. Fintech is also projected to grow 716% through 2021, an even clearer indication of its disruption of the banking sector.
While the Nasdaq is only up 0.3% this month, shares of Sid's recommendation have climbed 10.3% and cost less than $9 a share. Analysts predict the stock could gain as much as 27.9% in the next year.
Here's one of the best small-cap stocks to invest in today...
Buy This Small-Cap Tech Stock for a 27.9% Profit by June 2018
[mmpazkzone name="in-story" network="9794" site="307044" id="137008" type="4"]
Sid recommends Mitek Systems Inc. (Nasdaq: MITK) as a great way to make money from the exploding fintech sector.
You see, the market for mobile financial transactions is growing at an incredible pace. It's projected to expand by 716% over the next four years, with total combined revenue for the tech firms designing the transaction software rising to over $865 billion.
And Mitek is perfectly positioned to dominate that market. The company offers sophisticated identity verification software and services that let you do things like pay insurance or deposit checks over your phone. Some of its services are Mobile Docs, used for scanning documents, and Mobile Verify, used for validating personal identifications. Revenue from these software services reached $7.8 million in the first quarter - up 39.3% from $5.6 million in Q1 2016.
Its ID services and mobile banking services will be the big reasons why Mitek keeps growing over the long term.
"The company is already the world leader in mobile capture and identity verification, so it has a huge first-mover advantage over its competition," Sid said. "It's no surprise, then, that its top line nearly doubled over the last two years."
Mitek's earnings have made a big turnaround over the last three years. Its net income swung from a $5.3 million loss in 2014 to a profit of $1.9 million for the full year 2016. In fact, the company posted income of $1.2 million in Q1 2017 - up a massive 109% from the same quarter in 2016.
Analysts don't see that earnings growth slowing down anytime soon. Five analysts surveyed by Thomson Reuters project Mitek to earn an average earnings per share (EPS) of $0.29 this year. That would be over four times the $0.06 EPS earned in 2016.
Those same analysts see the MITK stock price rising to as much as $11 in 12 months. That would be a generous 27.9% return for investors who buy in now at $8.60.
With a strong foot in the mobile transaction sector and growing earnings, Mitek is one of the best small-cap investments to make this year.
Up Next: The 3 Worst Penny Stock Scams in Recent History
Alex McGuire writes about penny stocks for Money Morning. Follow him on Twitter for the biggest penny stock news and updates.