(Kitco News) – World stock markets were mixed overnight, as gains were limited by swooning energy sector stocks due to falling crude oil prices recently. U.S. stock indexes are pointed toward weaker openings when the New York day session begins.
Gold prices are holding moderate gains in pre-U.S.-session trading. Short covering in the futures market and bargain hunting in the cash market are featured, following recent selling pressure.
Besides the recent slump in crude oil prices, another feature in the marketplace this week has been falling world government bond yields. Earlier this year many analysts and market watchers were looking for rising inflationary pressures to put central bank monetary policies back into more traditional postures regarding their interest rates. However, at mid-year most inflation numbers around the world have either held steady or even backed off a bit.
The key "outside markets" on Thursday morning see Nymex crude oil futures prices firmer on a tepid short-covering bounce after hitting a 14-month low on Wednesday. The oil market bears have the solid overall near-term technical advantage as prices are trading below $43.00 a barrel. Meantime, the U.S. dollar index is near steady early today. The index has stabilized this week and that's good news for the greenback bulls.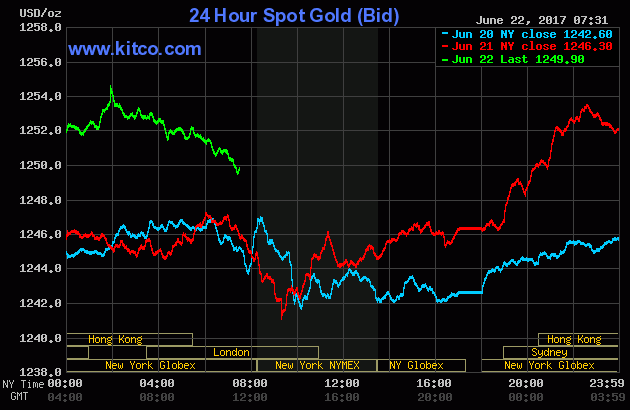 http://www.kitco.com/charts/livegold.html
U.S. economic data due for release Thursday include the weekly jobless claims report, the monthly house price index, leading economic indicators, and the Kansas City Fed manufacturing survey. The Federal Reserve also releases its stress test results on some big banks.
By Jim Wyckoff, contributing to Kitco News; jwyckoff@kitco.com