If you're trying to figure out how to beat the stock market this year, Money Morning Small-Cap Specialist Sid Riggs has an easy-to-follow strategy to find market-beating gains.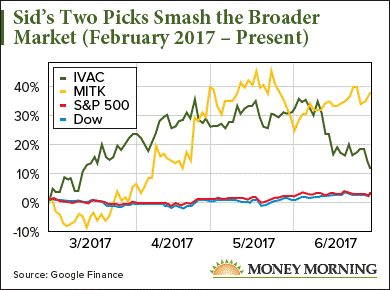 This strategy has helped Sid hand our readers big returns. Two of his 2017 picks - Mitek Systems Inc. (Nasdaq: MITK) and Intevac Inc. (Nasdaq: IVAC) - brought investors 22.1% and 24.9% profits since he picked them. Those smashed the Dow Jones' 3.1% gain and S&P 500's 3.3% return over the same time.
Even though these profits are there for the taking, many Americans aren't confident enough to invest in the stock market. According to a recent Gallup poll, only 52% of American adults owned stock in 2016. That was the lowest ownership rate since at least 1999, and it happened even as the Dow Jones and S&P 500 gained 13.4% and 9.5% last year.
But Sid has made finding the best stocks to buy much easier. His strategy involves using an everyday investing tool to easily narrow the entire stock market down to a short list of potential companies that can deliver market-crushing gains like MITK has this year.
"There's a really quick way to filter out the noise and zero in on a (really) short list of winning plays," Sid told readers on March 24. "It's free to use, too, which means you can keep more of the juicy gains you're likely to pull in with it."
Here's how to use one of the best free tools for finding market-beating investments...
This Free, Easy-to-Use Tool Can Help You Beat the Market in 2017
The tool we're talking about is a stock screener, which investors use to filter stocks based on specific inputs and criteria. For example, investors can screen for companies by certain data points like dividend yield, market cap, and share price, among many others.
The best part about stock screeners is that most of them are offered for free on various websites, meaning all retail investors with Internet access can use them.
"There are a lot of free screening tools out there. Personally, I like the screens at CNBC.com," Sid said. "Now, I certainly don't get compensation from these folks. I just think their screens offer a lot of functionality - and the best part is that they're free."
According to Sid, there are four screening criteria to start out with...
Price/Earnings (P/E) Ratio: a company's share price divided by earnings per share (EPS). A high P/E ratio indicates a stock is overvalued compared to the company's earnings, while a low P/E ratio indicates it's undervalued. It is best to compare a company's P/E ratio to other competitors in the same industry. Tech stocks often have high P/E ratios, with Amazon.com Inc.'s (Nasdaq: AMZN) $990.09 stock price trading at 185 times the company's earnings. Financial stocks typically have low ratios, with Citigroup Inc. (NYSE: C) having a P/E ratio of just 13.06.
Price/Sales (P/S) Ratio: a company's market cap divided by its total sales over 12 months. A high P/S ratio - such as Cisco Systems Inc.'s (Nasdaq: CSCO) 3.15 - indicates a stock is overvalued compared to the company's sales or revenue. Meanwhile, a low P/S ratio - like Comfort Systems USA Inc.'s (NYSE: FIX) 0.77 - indicates it's undervalued.
Price/Book Value (P/B) Ratio: a company's share price divided by its book value (i.e., total assets minus total debt or liabilities). A low P/B ratio - such as Korea Electric Power Corp.'s (NYSE: KEP) ratio of 0.39 - can indicate a stock is undervalued, but it can also mean the company has too much debt. This should always be considered on a case-by-case basis.
Debt/Equity (D/E) Ratio: a company's total debt and liabilities divided by its share price. A high D/E ratio indicates a company has been taking on more debt to finance its growth. Restaurant chains undergoing rapid expansion tend to have high D/E ratios, with McDonald's Corp.'s (NYSE: MCD) ratio reaching a high of 7.75 in March 2016. This can incur a high level of risk on the investor's part.
For all of these criteria, Sid recommends only screening for stocks that are less than the current median of the S&P 500. Here are the S&P 500 medians of each of the four screening criteria as of June 28...
Median P/E Ratio of the S&P 500: 65
Median P/S Ratio of the S&P 500: 44
Median P/B Ratio of the S&P 500: 74
Median D/E Ratio of the S&P 500: 12
Once you plug these four criteria in, you should have a list of 487 companies. While that narrows down the list of stocks to choose from, there are still too many to find the best stocks to invest in.
Must See: This Great Depression-Era "Secret" Helped Transform Two Teachers into Millionaires. Read more...
But Sid says there's a fifth criterion that will turn our long list into a selective group of stocks with high profit potential.
"You're one input away from giving your returns a serious kick," he noted. "Something I like to refer to as the 'cherry on the top.'"
Here's the last piece of the puzzle that will get you your list of potentially explosive stocks...
The Most Important Criteria for Finding the Best Stocks to Buy in 2017