(Kitco News) - World stock markets were mixed overnight. U.S. stock indexes are pointed toward mixed openings when the New York day session begins. Many U.S. traders are just now returning from a long holiday weekend.
Gold prices are trading near steady after hitting a nearly four-month low overnight. The bears have technical momentum as gold prices are in a four-week-old downtrend on the daily bar chart.
The world geopolitical scene has heated up again, but safe-haven gold is not reacting much, at least not yet. North Korea says it has an intercontinental ballistic missile that the regime says can reach anywhere in the world. This has riled the U.S. and other Western nations. The Trump administration wants to take a hardline against the North Koreans, but its options are very limited.
In other overnight news, the Eurozone got some upbeat economic data. Retail sales were up 0.4% in May from April, and were up 2.6%, year-on-year. These numbers were better than market expectations. Meantime, the Eurozone Markit composite purchasing managers index (PMI) came in at 56.3 in June, which was slightly down from the May reading but still above market expectations.
Despite the good Eurozone economic data Wednesday, the Euro currency is seeing some profit-taking pressure from recent good gains that pushed prices to a 10-month high last week.
A feature in the marketplace on Wednesday will be the release of the latest minutes from the June meeting of the Federal Open Market Committee (FOMC). Traders will parse the report for any new clues on the future direction and timing of U.S. monetary policy moves.
The key "outside markets" on Wednesday morning see Nymex crude oil futures prices lower amid a global supply glut. Still, recent upside price action in crude oil begins to suggest a near-term market bottom is in place. Meantime, the U.S. dollar index is higher early today, on more short covering after hitting a nine-month low last week. The greenback bears still have the firm overall near-term technical advantage.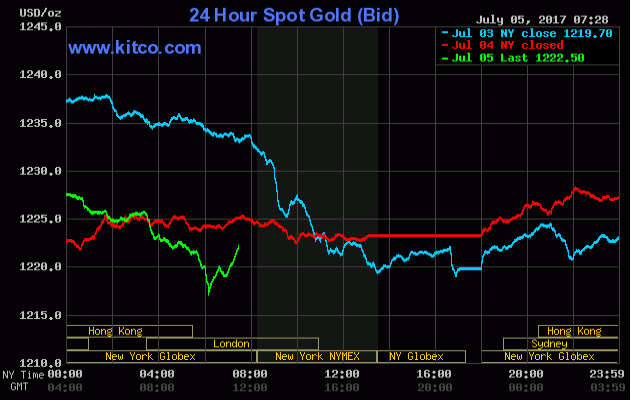 U.S. economic data due for release Wednesday includes the weekly Goldman Sachs and Johnson Redbook retail sales reports, the ISM New York report on business, manufacturers' shipments and inventories, the IDB/TIPP economic optimism index, and the FOMC minutes.
By Jim Wyckoff, contributing to Kitco News; jwyckoff@kitco.com
Follow Jim Wyckoff @jimwyckoff for breaking news.