(Kitco News) – Global equity markets were steady to narrowly mixed overnight, in quieter dealings amid a lack of fresh, major fundamental news to drive the markets.A lazy, hazy summertime trading atmosphere has enveloped U.S. and European stock markets. U.S. stock indexes are pointed toward slightly lower openings when the New York day session begins.
Gold prices are firmer and hit a three-week high overnight. Prices are in a two-week-old uptrend and bulls have momentum.
It appears the "take away" from this week's news events and markets' price action is growing notions the major central banks of the world are not in a big hurry at all to tighten their monetary policies, with a major reason being very tame price inflation expectations. European Central Bank President Mario Draghi on Thursday sounded a surprisingly dovish tone on ECB money policy. The Bank of Japan on Thursday lowered its inflation expectations. And the week before, Fed Chair Janet Yellen spoke before the U.S. Congress and suggested the Fed will only very gradually raise U.S. interest rates.
The aftermath of less hawkish rhetoric coming from world central bankers has seen U.S. stock indexes hit record highs, world government bond yields have dropped, the Euro currency has rallied to a 14-month high, and the U.S. dollar index has hit a 13-month low. Gold has also seen a decent rally the past couple weeks.
In overnight news, a poll of Euro zone forecasters predicted a 1.5% annual inflation rate for the Euro zone, which is well below the 2.0% annual inflation target the ECB wants.
The important "outside markets" on Friday morning see Nymex crude oil futures slightly higher and trading above $47.00 a barrel. Recent upside price action suggests a market bottom is in place for oil. However, my bias is that crude oil prices will remain trapped in a choppy and sideways trading range between $40 and $50 a barrel in the coming months. Meantime, the U.S. dollar index is lower and hit a 13-month low overnight. The greenback bears remain in firm near-term technical command as prices have been trending lower since the beginning of this year.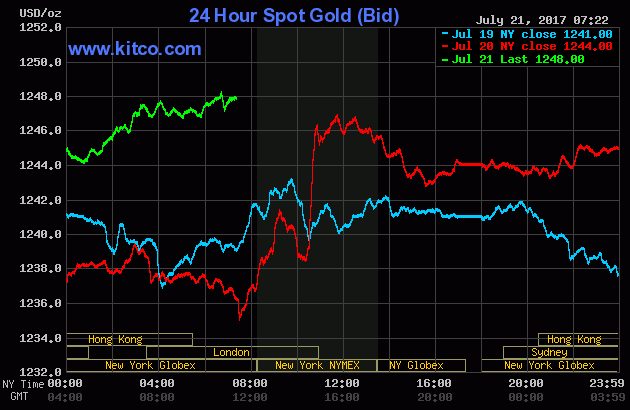 There is no major U.S. economic data due for release Friday.
By Jim Wyckoff, contributing to Kitco News; jwyckoff@kitco.com