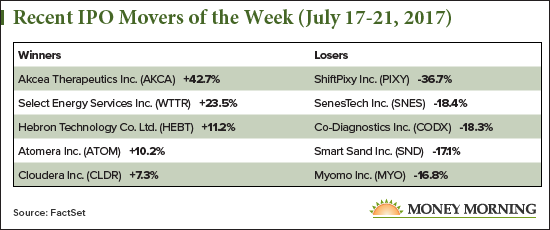 Our list of recent IPO* movers of the week includes stocks across a variety of sectors, from pharmaceuticals and oil services to staffing solutions and pest control.
Akcea Therapeutics Inc. (Nasdaq: AKCA) jumped 42.7% immediately after the closing of its initial public offering. The IPO began on June 20 at a share price of $8, and shares have done nothing but rise since hitting the open market. The stock closed the week at $13.91. Initial price expectations for the IPO were between $12 and $14 per share. Akcea is based in Cambridge, Mass., and specializes in drugs to treat cardiometabolic diseases caused by lipid disorders.
Select Energy Services Inc. (NYSE: WTTR) shot up 23.5% for the week after a merger announcement. On Tuesday, the company finalized a deal to acquire Rockwater Energy Solutions Inc. for $456 million worth of stock. Select's shareholders will own 64.4% of the combined company, while Rockwater's shareholders will own 35.6%. Both companies are based in Texas and provide water-related services to oil and gas companies. Select went public in April at $14 per share. It closed the week at $14.66.
BREAKING: New Legislation Could Turn Tiny Pot Stocks into Millions. Click Here...
After offering shares at $6 per share in its June IPO, ShiftPixy Inc. (Nasdaq: PIXY) zig-zagged its way up to $10.32. But last week the bottom dropped out, sending the stock plunging 36.7% to $6.46 at Friday's close. The Irvine, Calif.-based company provides part-time staffing service primarily in the restaurant, hospitality, and maintenance industries. Investors seem to be still finding a value for this newcomer.
In spite of mostly positive news in recent weeks, Arizona-based SenesTech Inc. (Nasdaq: SNES) dropped 18.4% for the week. On July 17, the company, which specializes in technology-based pest control solutions, announced a partnership with the Wildhorse Ranch Rescue in Gilbert, Ariz., to provide control for rat infestations. The services will employ SenesTech's ContraPest product, which a week earlier was revealed to be effective against not one but two species of rat. Zacks Investment Research upgraded its rating on SenesTech from a "Sell" to a "Hold" on July 13, but that wasn't enough to keep investors from jumping ship last week.
*Stocks are listed on a U.S. exchange with an initial public offering in the last year. Data and analytics provided by FactSet.
Up Next: One gallon of this new "crystal fuel" could get you from New York to L.A. and back... seven times! Being hailed by many experts as energy's "Holy Grail," it's 1,693 times more powerful than the gasoline that runs your car. The mainstream investment media isn't even talking about it yet. Read more...
Follow Money Morning on Facebook and Twitter.
Join the conversation. Click here to jump to comments…
About the Author
Stephen Mack has been writing about economics and finance since 2011. He contributed material for the best-selling books Aftershock and The Aftershock Investor. He lives in Baltimore, Maryland.