(Kitco News) – World stock markets were mostly weaker overnight. The very low volatility in global equity indexes continues. Such may continue to be the case until after the U.S. Labor Day holiday in early September.
Gold prices are firmer and hit a four-week high in pre-U.S. day session trading. Bulls have upside momentum to suggest more gains in the near term.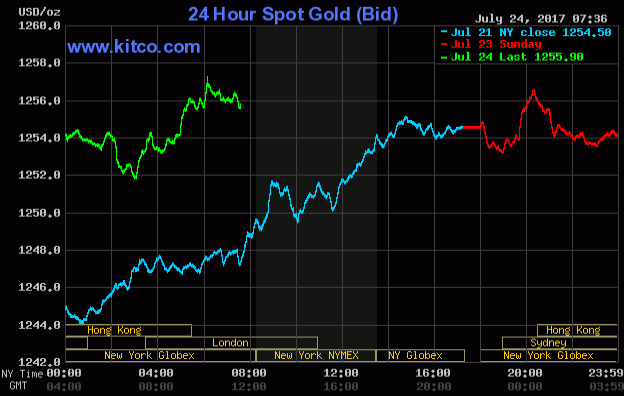 Focus of the world marketplace this week will be on the Federal Reserve's Open Market Committee meeting (FOMC) that begins Tuesday morning and ends early Wednesday afternoon with a statement. No changes in U.S. monetary policy are expected at this meeting. However, the tone of the FOMC statement will be important for markets. Just recently Federal Reserve Chair Janet Yellen has sounded a more dovish tone on U.S. monetary policy.
In overnight news, the Markit Purchasing Managers' Index (PMI) for the Euro zone came in at 55.8 in July from 56.3 in June. The July reading was below market expectations. Still, a number above 50.0 suggests growth in the sector.
There is still lingering concern in the marketplace about the Trump Administration delivering on all of its pro-business and pro-economic-growth promises made before and just after last November's election. Nearly six months into the Trump presidency, little has been accomplished on that front. Last week's failure to pass new health care legislation dealt a major setback to Trump. This matter has contributed to a depreciating U.S. dollar in world currency markets.
The U.S. dollar index is slightly higher early today on a tepid corrective bounce after hitting a 14-month low overnight.
The other important "outside market" on Monday morning sees Nymex crude oil futures firmer and trading just above $46.00 a barrel. OPEC oil ministers were meeting today in St. Petersburg, Russia. Headlines are starting to show up on newswires, as OPEC ministers are commenting. However, no official statement from OPEC has been seen yet.
U.S. economic data due for release today includes the U.S. flash services PMI, the flash manufacturing PMI, and existing home sales.
By Jim Wyckoff, contributing to Kitco News; jwyckoff@kitco.com
Follow Jim Wyckoff @jimwyckoff for breaking news.