(Kitco News) – Global equity markets were steady to narrowly mixed in quieter overnight dealings. U.S. stock indexes are pointed toward firmer openings when the New York day session begins. The U.S. indexes are at or near record highs with no early chart clues to suggest they are topping out.
Gold prices are moderately lower in pre-U.S. session trading, on some normal profit taking from recent gains that saw prices hit a four-week high on Monday.
Focus of the world marketplace is on the Federal Reserve's Open Market Committee meeting (FOMC) that begins Tuesday morning and ends early Wednesday afternoon with a statement. No changes in U.S. monetary policy are expected. However, the Fed could indicate the timing of reducing its big balance sheet of U.S. securities. The tone of the FOMC statement will also be important for markets. Just recently Federal Reserve Chair Janet Yellen has sounded a more dovish tone on U.S. monetary policy.
In overnight news, the closely watched German Ifo business sentiment index rose to a record 116.0 in July, from 115.2 in June. A July reading of 114.9 was forecast.
The important "outside markets" on Tuesday morning see Nymex crude oil futures firmer and trading close to $47.00 a barrel. OPEC oil ministers are meeting in St. Petersburg, Russia. Saudi Arabia has chastised cartel member nations for not adhering to their production quotas and has pledged to cut even more of its own oil production levels.
The U.S. dollar index is firmer today on a corrective bounce after hitting a 13-month low on Monday. The greenback has been on a downhill slide against the other major currencies since January.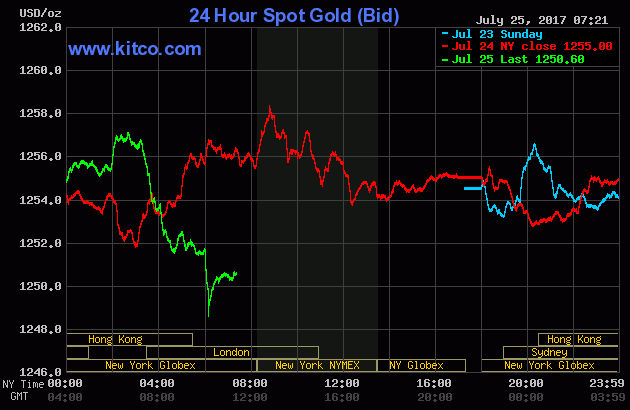 U.S. economic data due for release today includes the weekly Johnson Redbook and Goldman Sachs retail sales reports, the S&P/Case-Shiller home price index, the monthly house price index, the consumer confidence index, and the Richmond Fed business survey.
By Jim Wyckoff, contributing to Kitco News; jwyckoff@kitco.com