(Kitco News) – Global stock markets were mostly firmer overnight in the wake of a U.S. Federal Reserve meeting that produced a statement most of the markets deemed as leaning to the dovish side of U.S. monetary policy. Recent corporate earnings reports have also been mostly upbeat. U.S. stock indexes are pointed toward higher and record high openings when the New York day session begins.
Gold is posting solid gains Thursday in the wake of the dovish Fed statement that pushed the U.S. dollar index to a 13-month low. Reports overnight said India is moving to make "paper" gold (such as sovereign gold bonds) more attractive to its domestic investors, in order to reduce demand for actual gold bullion.
Traders and investors have mostly digested the Federal Reserve's Open Market Committee meeting (FOMC) that ended Wednesday afternoon. The Fed did not change U.S. interest rates or monetary policy. No changes were expected. The statement did say the Fed is looking to soon change its policy on its big balance sheet of U.S. securities. That suggested the Fed wants to shrink it sooner rather than later. The marketplace did not perceive the Fed statement to be leaning toward the hawkish side of U.S. monetary policy mainly because many Fed watchers feel the Fed won't raise interest rates until December, if even then. Fed watchers also think the Fed is starting to worry more about deflationary price pressures creeping back into world economies.
The marketplace is now looking ahead to the U.S. second-quarter advance gross domestic product (GDP) report, due out on Friday morning. Forecasts are calling for that number to come in at up 2.7%, year-on-year versus the first-quarter reading of up 1.4%.
The U.S. dollar index sold off following the FOMC statement, and is seeing follow-through selling pressure Thursday. The Euro currency, meantime, rose to a nearly two-year high overnight. The Euro has been in a strong price uptrend since early April.
The other "outside market" on Thursday morning sees Nymex crude oil futures slightly firmer and hitting a six-week high overnight. Crude prices are in a five-week-old uptrend and bulls are eyeing pushing the market above the key $50.00 level soon.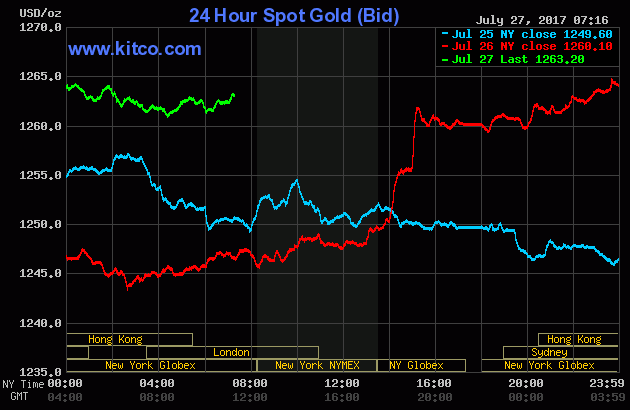 U.S. economic data due for release Thursday includes the weekly jobless claims report, durable goods orders, the Chicago Fed national activity index, the Kansas City Fed manufacturing survey, and the advance economic indicators report.
By Jim Wyckoff, contributing to Kitco News; jwyckoff@kitco.com