(Kitco News) – Global stock markets were mixed overnight. U.S. stock indexes are pointed toward firmer openings when the New York day session begins.
Gold prices are slightly lower in pre-U.S.-session trading after scoring a six-week high overnight. The gold bulls still have good upside near-term technical momentum, amid a steep price uptrend in place on the daily bar chart.
The weekend news that North Korea launched another ballistic test missile, which experts say could now reach well into the U.S. mainland, is not having a major impact on world markets. However, this matter could well be the next geopolitical flashpoint, as the U.S. says it will not allow North Korea to have such a capability.
Russia over the weekend announced it is expelling 750 U.S. diplomats in retaliation for U.S.-imposed sanctions on Russia. That news has no impact on markets, but underscores frayed relations between the two super powers.
In overnight news, there was a batch of economic data coming out of the Euro zone. The June jobless rate was 9.1% versus 9.2% in May. The consumer price index for July came in at up 1.3%, year-on-year, versus the same reading in June.
China's manufacturing purchasing managers' index (PMI) came in at 51.4 in July. Forecasts called for a reading of 51.6. A number above 50.0 suggests expansion in the sector.
The U.S. dollar index is firmer in early U.S. trading, on corrective bounce from recent selling pressure. The index hit a 13-month low last week.
Meantime, the other "outside market" sees Nymex crude oil futures slightly lower on mild profit taking after the market hit a two-month high just above
$50.00 a barrel overnight. Oil bulls still have upside technical momentum.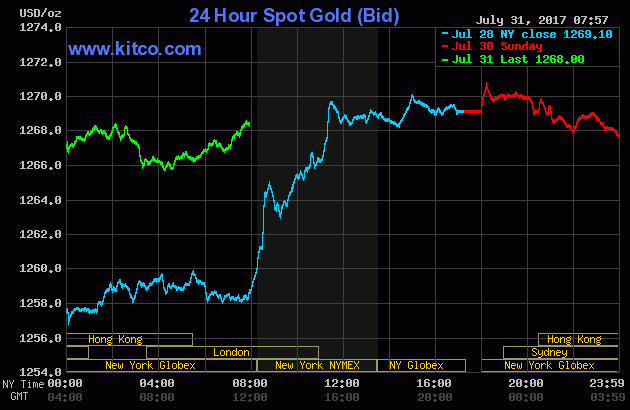 U.S. economic data due for release Monday includes the ISM Chicago business survey, pending home sales and the Texas manufacturing outlook survey. The key report of the week will be Friday's U.S. jobs report for July from the Labor Department. The non-farm payrolls number of that report is expected to be up 180,000.
By Jim Wyckoff, contributing to Kitco News; jwyckoff@kitco.com