(Kitco News) - World stock markets were mostly higher overnight, boosted in part by upbeat corporate earnings reports and upturns in several raw commodity markets. U.S. stock indexes are pointed toward higher openings when the New York day session begins.
Gold prices are slightly lower on mild profit taking from recent good gains. The gold bulls still have the overall near-term technical advantage as prices are in an uptrend on the daily chart.
In overnight news, the Euro zone reported its gross domestic product at up 0.6% in the second quarter from the first, and up 2.1%, year-on-year. The second quarter saw the best GDP performance for the Euro zone since 2011.
The Euro zone manufacturing purchasing managers' index (PMI) came in at 56.6 in July versus 57.4 in June. A reading of 56.8 was expected for July. A number above 50.0 suggests expansion in the sector.
The July U.K. PMI came in at 55.1 versus 54.2 in June. A reading of 54.9 was expected in July.
Australia's central bank left its interest rates unchanged at its regular meeting Tuesday.
The important "outside markets" early Tuesday find the U.S. dollar index slightly higher on a tepid corrective bounce from recent strong downside action that saw the index hit a 13-month low Monday. Meantime, Nymex crude oil futures are near steady and trading just above $50.00 a barrel. Oil prices hit a two-month high overnight.
It's a busy day for U.S. economic data Tuesday, including the weekly Johnson Redbook and Goldman Sachs retail sales reports, personal income and outlays, the U.S. manufacturing PMI, construction spending, the ISM manufacturing report on business, the global manufacturing PMI, and domestic auto industry sales.
The key report of the week will be Friday's U.S. jobs report for July from the Labor Department. The non-farm payrolls number of that report is expected to be up 180,000.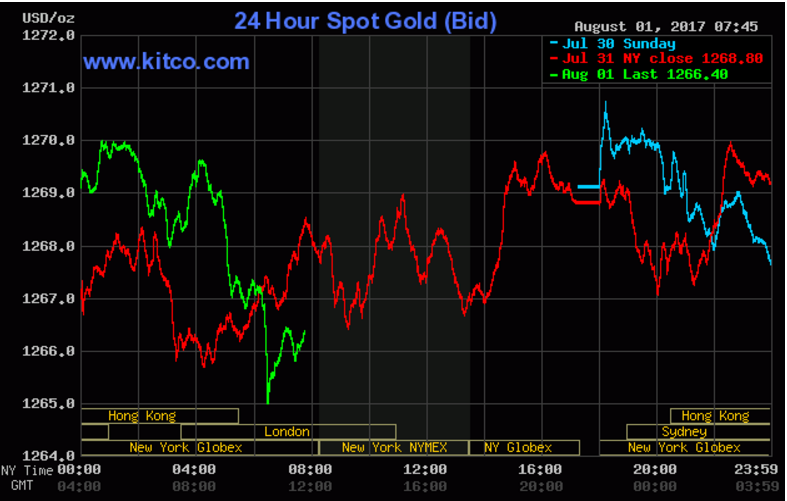 By Jim Wyckoff, contributing to Kitco News; jwyckoff@kitco.com
Follow Jim Wyckoff @jimwyckoff for breaking news.