(Kitco News) – World stock markets were mixed to weaker overnight, in quieter dealings ahead of U.S. jobs report. U.S. stock indexes are pointed toward firmer openings when the New York day session begins.
Gold prices are slightly higher in pre-U.S. session trading, on s mild bounce from some profit-taking pressure seen the past couple days.
Traders awaiting Friday morning's U.S. employment report from the Labor Department, due out at 8:30 a.m. EDT. This report is arguably the most important U.S. data point of the month. Forecasts call for the key non-farm payrolls number to come in at up 180,000. The ADP national employment report on Wednesday showed a rise of 178,000 jobs. The marketplace will also be watching the hourly wage component of the jobs report. A lower-than-expected wage inflation reading could prompt ideas of still-very-low inflation pressures, which could in turn keep the Federal Reserve from raising interest rates as soon as it would like. A non-farm jobs reading on Friday morning that significantly misses market expectations is likely to impact many markets, including higher volatility in the immediate aftermath of the report.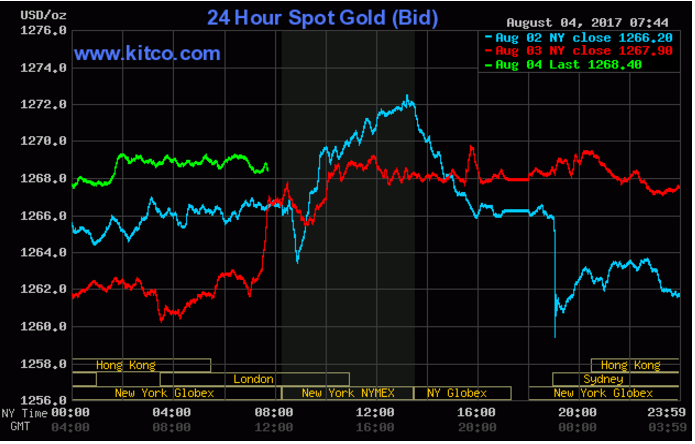 The U.S. dollar index is slightly lower in pre-U.S. day session trading, on a tepid bounce after hitting a 13-month low on Wednesday. The Euro currency is at a 2.5-year high amid the slumping greenback and on recent generally upbeat economic data coming out of the European Union. The present postures of the dollar index and the Euro currency are still bullish for the precious metals markets.
Nymex crude oil futures are lower in early trading Friday and trading around $48.50 a barrel. Oil market watchers are looking ahead to next week's OPEC meeting in Abu Dhabi. Many believe some OPEC members are cheating on their production quotas, and the meeting will address that matter.
Other U.S. economic data due for release Friday includes the international trade report.
By Jim Wyckoff, contributing to Kitco News; jwyckoff@kitco.com
Follow Jim Wyckoff @jimwyckoff for breaking news.