(Kitco News) – World stock markets were mostly lower to start the trading week. Traders and investors were disappointed that last week's Jackson Hole, Wyoming central bankers meeting did not offer any new guidance on the monetary policies of the world's major central banks. U.K. markets are closed Monday for a holiday. U.S. stock indexes are pointed toward weaker openings when the New York day session begins.
Gold prices are higher and have pushed above the key $1,300.00 level in overnight trading. A slumping U.S. dollar index is supporting the gold market bulls.
In another sign of worrisome deflationary pressures gripping world economies, the German government on Monday set a zero percent coupon on its two-year government note (Schatz) to be auctioned Tuesday.
The key "outside markets" early Monday see the U.S. dollar index lower and hitting a multi-month low. The greenback bears remain in firm near-term technical control to suggest still more downside pressure on the greenback.
The Euro currency rose to a 2.5-year high overnight as ECB president Mario Draghi last Friday at his Jackson Hole speech failed to mention the Euro's strength. Traders took that to mean Draghi must not be that worried about the Euro's recent appreciation.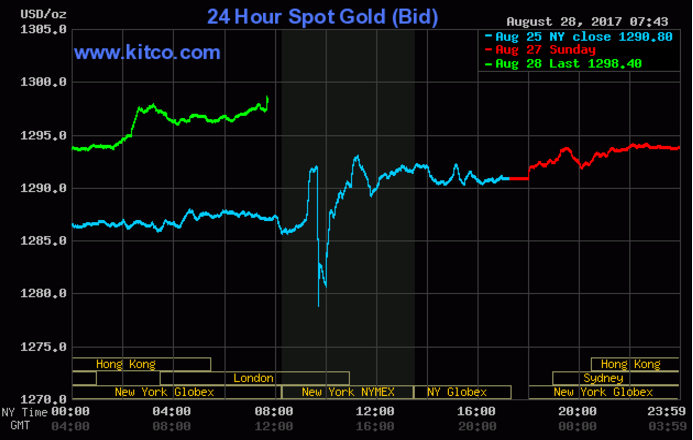 Nymex crude oil futures are weaker Monday. A hurricane has flooded a Houston, Texas and surrounding areas, including a major gasoline refinery. This will impact supplies of U.S. gasoline, and demand for crude oil, in the coming weeks.
U.S. economic data due for release Monday includes the advance economic indicators report and the Texas manufacturing outlook survey. The major U.S. data point of the week is Friday's employment situation report from the Labor Department.
By Jim Wyckoff, contributing to Kitco News; jwyckoff@kitco.com
Follow Jim Wyckoff @jimwyckoff for breaking news.